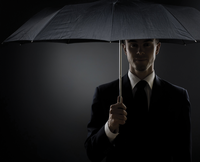 Veeam Agent for Linux backup software
A Clever Agent
The Veeam Agent for Linux is not open source, but it offers a professional solution free of charge for local and remote backup and recovery of files, folders, volumes, and even complete systems in the local network and on servers in the cloud.
Veeam specializes in creating backup solutions for virtualized environments. Specifically, it focuses on backups for virtual machines (VMs) from VMware vSphere and Microsoft Hyper-V. Hence, the name Veeam, a rendering of the abbreviation "VM." Veeam's core product, Veeam Backup & Replication, runs inside the VM and performs incremental data backups, data duplication, data compression, and complete image replication; the commercial version costs a minimum of $466 per year in subscription fees.
The company released a Linux solution called Veeam Agent for Linux, which is available for $45 (Workstation) or $150 (Server) per year. In 2015, the company expanded its offering with the free Veeam Endpoint Backup, which performs backups on Windows computers. Now, Veeam has a free beta version for Linux, which they call Veeam Agent for Linux FREE.
A Free Professional-Grade Backup
The thinking behind this product is that companies increasingly look to heterogeneous environments; moreover, a large part of the public cloud runs under Linux. The new Veeam Agent for Linux, and its Windows counterpart, comes free of charge, even though it is not completely free software. The solution supports backups and recovery locally via Network File System (NFS) and Common Internet File System (CIFS)/Server Message Block (SMB).
Veeam Agent for Linux is an agent-based solution that runs in the host operating system. This utility can back up and restore files, volumes, and entire installations on both local and remote computers. Restoring a complete installation uses a Clonezilla-like approach; that is, a bootable ISO file with an agent that fully supports the Logical Volume Manager (LVM).
However, the agent uses a proprietary volume snapshot provider instead of the manager's snapshot function. According to the manufacturer, this proprietary snapshot provider eliminates the limitations of the
...
Use Express-Checkout link below to read the full article (PDF).
comments powered by

Disqus