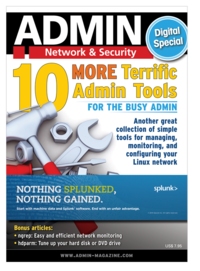 Happy SysAdmin Day!
Splunk and ADMIN magazine are proud to announce this year's SysAdmin Day digital special edition: "10 More Terrific Tools for the Busy Admin." This year's special edition follows up on the popular format of last year's SysAdmin Day special, with an all-new selection of top tools from the toolkit of Linux Pro Magazine columnist Charly Kühnast. This year's roundup of simple tools includes Linux utilities for remote access, security, traffic monitoring, logfile analysis, and more. A pair of bonus articles discuss network monitoring with ngrep and show how to use hdparm to optimize hard disk performance.
According to ADMIN publisher Brian Osborn, "We're excited to team up with Splunk on another SysAdmin Day special edition. When you work for a magazine with a readership that is 95% system administrators, SysAdmin Day has a special meaning. The admins I know are always looking for simple and useful tools that will help them do their jobs a little more efficiently, so I know they will welcome this latest collection of handy admin tools."
Download 10 More Terrific Tools for the Busy Admin
Sorry, the requested Item isn't available for download anymore.
comments powered by

Disqus