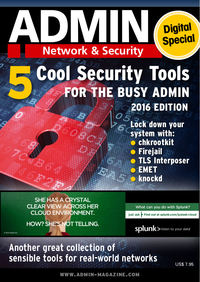 Happy SysAdmin Day
This year's lineup starts with a look at chkrootkit, a tool that helps you find evidence of a rootkit on your system. You'll also learn about Firejail, a handy app for isolating programs and processes to limit the damage an intruder can do. We'll show you TLS Interposer, which helps you upgrade the security of programs that use OpenSSL. You'll also discover Microsoft's EMET toolkit, and you'll learn about port knocking with knockd.
According to ADMIN publisher Brian Osborn, "Our modern world wouldn't work without system administrators, and IT professionals are the core of our readership, so we're very excited to provide this gift for the admins of the world."
Download 5 Cool Security Tools for the Busy Admin
Sorry, the requested Item isn't available for download anymore.
comments powered by

Disqus