Nuxeo ECM Optimized for Ubuntu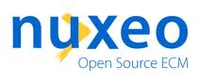 Open source document management application provider Nuxeo announced that its Nuxeo Document Management ECM platform is now optimized for the Ubuntu server environment and available in the Ubuntu software partner catalog, a boon for developers building content management applications for Ubuntu users. Although Nuxeo continues to support a variety of proprietary and open source operating systems, including Debian, Ubuntu is widely used among Nuxeo customers, and has become the favored platform for most members of the Nuxeo research and development group.
"Having our Nuxeo EP distributions, including Nuxeo Document Management, optimized for Ubuntu is yet another step in our ongoing commitment to simplify the creation of cutting-edge content applications on the Nuxeo Enterprise Platform for architects, Java developers, and system administrators," said Nuxeo CEO Eric Barroca.
Nuxeo describes its Ubuntu distribution as "ideal for massive cloud deployments" and employs the product in its own cloud stack. Also available for developers are Nuxeo Connect, Nuxeo Studio, and Nuxeo Marketplace, tools for design and prototyping. Nuxeo invites Ubuntu and Debian developers to participate in the project in the areas of application development and platform extensions. For information on using Nuxeo products on Ubuntu, see http://doc.nuxeo.com/x/94RH.