Accelerating and Simplifying Apache Hadoop with Panasas ActiveStor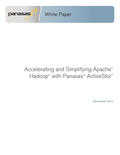 Panasas ActiveStor running the PanFS filesystem is an ideal storage solution for customers with varied big data workloads.
Many of the design aspects of the Hadoop Distributed File System (HDFS) are fundamentally very similar to Panasas PanFS. Now that Panasas scale-out NAS supports Hadoop, a single compute cluster and storage system can support many workloads, including NoSQL analytics. This paper highlights the key elements of a Hadoop ecosystem, focusing primarily on HDFS.