Operational Numerical Weather Prediction Job Scheduling at the Petascale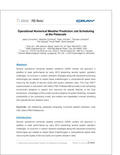 The Cray XE6™ supercomputer, in conjunction with Altair PBS Professional®, provides a rich scheduling environment designed to support and maximize the specific features of the Cray architecture.
Several operational numerical weather prediction (NWP) centers will approach a petaflop of peak performance by early 2012, presenting several system operation challenges. An evolution in system utilization strategies along with advanced scheduling technologies are needed to exploit these breakthroughs in computational speed while improving the Quality of Service (QoS) and system utilization rates.