PBS Professional Utilizes Intel Cluster Checker to Validate the Health of an HPC Cluster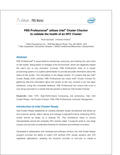 PBS Professional can use Intel Cluster Checker to gather real-time information on ICR-certified clusters.
On clusters that are Intel® Cluster Ready (ICR) certified, PBS Professional can utilize Intel® Cluster Checker for gathering real-time information about the cluster at the very moment a job has been scheduled. Using this immediate feedback, PBS Professional can ensure that a job is only being executed on a cluster that has passed a check by Intel Cluster Checker.