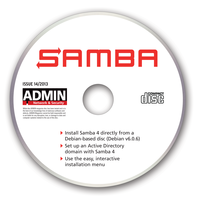 On the CD
Samba 4 Software Appliance
The CD included with this issue contains a special appliance system you can use to explore and test Samba 4. The ISO image contains a customized version of Debian 6.0 "Squeeze," with Samba 4 software and a special installation tool called dcpromo that helps you set up the Samba system as an Active Directory domain controller.
Installation and Configuration
The following excerpt is from the README file for this CD image:
http://ftp.sernet.de/pub/samba4AD/sernet-samba4-appliance/README
Installation
The non-graphical installation is recommended. It's preconfigured with common answers and will simply ask for confirmation to overwrite the whole disk. After that, the installation will be fully automatic with one possible exception: If no DHCP server is found, the user is prompted for manual network configuration; otherwise, the network will be configured with DHCP.
At the end of the installation, the system is equipped with a user "sernet" that has no password (yet) and is automatically logged in after boot.
The root password is "root" and should be changed. The OpenSSH daemon is enabled and accepts root logins.
Configuration
After successful installation, the system is booted, the user "sernet" is automatically logged in to the desktop system, and the "dcpromo" tool is launched, giving the user the opportunity to directly configure the Active Directory domain.
The user can perform additional system configuration, like additional network configuration, keyboard or locale settings, in a separate shell before proceeding with the dcpromo dialog.
Things you might want to reconfigure:
Keyboard:
sudo dpkg-reconfigure keyboard-configuration
Timezone:
sudo dpkg-reconfigure tzdata
Locales:
sudo dpkg-reconfigure locales
Network: Edit, e.g.,[UCC:x20-kl-listing-bold] [/UCC] /etc/network/interfaces and do
sudo /etc/init.d/networking restart
When you are confident with the general system configuration, proceed with the dcpromo dialog to configure the Samba domain. After successful configuration, the samba daemon is started, and the Active Directory domain is ready to be used.
Now machines can be added to the domain. In order to join a Windows (or Samba) machine, one only has to configure the Samba 4 server's IP address as the DNS server on the client machine, and then the join should work without further configuration.
The Samba server can be managed with the Samba command-line tools, like "samba-tool". Also, it can conveniently be managed with the Windows Remote Server Administration Tools like the Active Directory Users and Computers dialog and the mmc snapins for group policy management. These tools can be downloaded from Microsoft for Windows 7 on http://www.microsoft.com/download/en/details.aspx?id=7887. For different Windows versions use a search engine and search for "Windows Remote Server Administration Tools <your operating system>" or visit the Samba4/HOWTO links below.
For further information on how to administer Samba 4, please refer to the Samba 4 pages on http://wiki.samba.org/, specifically:
comments powered by

Disqus