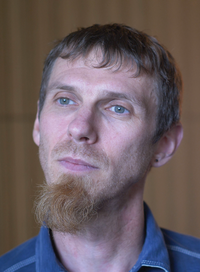 Meet the CTO of Red Hat
Hats Off
At the Red Hat Summit in San Francisco, Swapnil Bhartiya sat down with CTO Chris Wright to talk about his role at Red Hat and the future of Red Hat in new technologies.
Chris Wright, CTO of Red Hat, did not start his tech journey with an open source company working on open source technologies. He started off as a system administrator maintaining and managing Unix systems in the early 1990s. However, he could not bring those massive Spark machines home with him, so he explored and discovered Linux and set up an x86 machine so he could play with the technology. "I enjoyed it. I like digging under the hood," he said.
He then graduated to become a developer working on high availability (HA) for a telecommunity platform and became more involved with Linux. With his work on the Linux HA project, he was bitten by the bug of working and collaborating with a community. "I was surrounded with incredibly smart people, and I learnt a lot from them."
He continued to evolve and ended up working on the Linux kernel itself. Some 12 years ago when Red Hat was looking for virtualization expertise, he joined the company from Open Source Development Labs (OSDL). "Back then, Red Hat didn't have virtualization offerings. They didn't really have a very large hypervisor team. They were using Xen and were looking at expertise in this space to drive that technology, productize it, and bring to market."
What Does the CTO Do?
Wright rose up the ranks within Red Hat and became the Chief Technology Officer (CTO)of the company. But what does the CTO of an open source tech company really do when most of their technologies are being developed in the open by different communities?
"My role is about strategy around technology, to make sure that we are paying attention to emerging technology trends and markets that are potentially relevant to Red Hat," said Wright.
Every new technology or trend could be an opportunity or a threat, irrespective of its nature. Companies like Red Hat need to keep an eye on them and turn threats into
...
Use Express-Checkout link below to read the full article (PDF).
comments powered by

Disqus