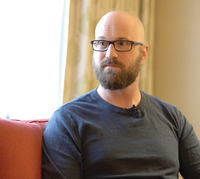 This Linux hardware company puts the emphasis on freedom and privacy
Change the Future
Purism is a hardware vendor with the credo that the latest technology should not cost you your freedom. We interview Purism CEO Todd Weaver.
I met Todd Weaver, the founder and CEO of Purism, in San Francisco when I was there for Red Hat Summit 2018. We sat down for an hour-long interview before heading out for some drinks. You can watch the whole interview on our channel TFiR TV [1] (URL).
Purism [2] is a company that offers hardware preloaded with Linux-based distributions. Purism has created its own Debian-based Linux distribution called PureOS that runs on the Librem laptops and 2-in-1 detachable laptop-and-tablet devices. The company is also working on a Linux based smartphone called Librem 5.
The Brief History of Purism
As a long-time free software advocate, Weaver felt frustration every time he went to the store to buy a new device. He was concerned with the way computers were becoming a threat to privacy, security, and freedom. Having kids made him even more determined to "become the change he wanted to see in the world."
He could easily give up convenience and choose not to use these devices, a route advocated by Richard M. Stallman and others. But he knew that not everyone was willing to make that sacrifice. At the same time, he didn't want to deprive his kids of the latest technologies. He wanted to find a balance point where he could access the benefits of modern technologies without all the risks associated with them.
"My approach is that all of those advancements are great. We should just do them all ethically. The clear line of bifurcation for existing companies is that they have to drive for maximizing shareholder value, which means that, when presented with an opportunity for gathering up more data on an individual or creating a backdoor to maximize advertising dollars, they have to do it. They have a fiduciary duty to maximize shareholder value."
So Weaver set out to
...
Use Express-Checkout link below to read the full article (PDF).
comments powered by

Disqus