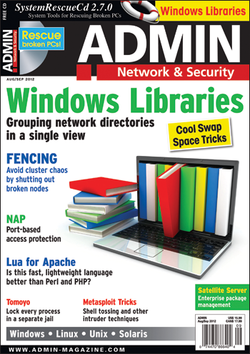 Issue 09: Windows Libraries
Creating logical directories with libraries in Windows, and letting go of Pacemaker clusters with broken nodes.
Download this issue as a PDF:
100 pages
Price $15.99

Don't miss an issue of the magazine for admins! Subscribe now!
Issue #9 will be shipped to subscribers and available on newsstands starting approximately:
UK/Europe: June 18
North America: July 13
Australia: August 13
Windows Libraries – Find the directories and files you need quickly with logical views from diverse storage locations in Windows 7, Server 2008 R2, and SBS 2011.
Fencing in HA Clusters – Let nodes compete with and eliminate each other in the Darwinian world of high-availability clusters.
Tools: Save time and simplify your workday with these useful tools for real-world systems administration.
NAP with 802.1X – Enforce security standards for mobile devices before they access the network.
RADOS and Ceph – Build scalable storage in the cloud with a RADOS object store and the Ceph filesystem, with a HA option.
Tomoyo Linux – Jail processes with the Tomoyo kernel module for Linux.
Lua for Apache – The Lua scripting language reaches Apache 2.4 with mod_lua.
Five HPC Hazards – Avoid these pitfalls when building your high-performance computing installation.
Virtualization: Virtual environments are becoming faster, more secure, and easier to set up and use. Check out these tools.
vSphere Image Builder – Get the latest drivers for ESXi install images with VMware Image Builder.
Management: Use these practical apps to extend, simplify, and automate routine admin tasks.
Shell-Based VM Management – Clone and manage virtual servers that are immediately accessible on the network.
Red Hat Satellite Server – Satellite Server offers an enterprise-ready solution for automating software updates and patch management.
Interoperability: Make sure the components of your mixed operating system environment "play nice" together.
MobaXterm: Unix for Windows – Use a *nix command line on the Windows desktop.
AppLocker – Control Windows users' access to applications, scripts, and files.
Nuts and Bolts: Timely tutorials on fundamental techniques for systems administrators.
collectl – Granular cluster monitoring down to a single node.
Performance Tuning Dojo – Optimizing swap space for efficient processing.
Metasploit Tips – Sometimes you have to be the bad guy to protect yourself against intruders.
PowerShell – Learn how PowerShell cmdlets can ease your administration burden.
Admin Story: SSSD – Evaluate sudo rules centrally with SSSD, even when the server is down.
News: Find out about the latest ploys and toys in the world of information technology.
News – News on security problems: with PHP websites in CGI mode, at ICANN, and for users still using DNSChanger. Year-to-date report on malware.
New Products – New releases for ClearCenter ClearOS, Pentaho Business Analytics, Whiptail Invicta and Accela, and Opsview V4.
* Google Play Magazines available in AUS, CA, FR, DE, IT, UK, USA
---
---
---
Support Our Work
ADMIN content is made possible with support from readers like you. Please consider contributing when you've found an article to be beneficial.
---