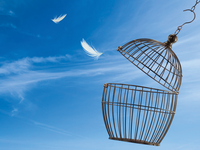 Citrix XenServer 6.2 goes open source
Free at Last!
In June, Citrix released the latest version of XenServer Enterprise as open source software. The manufacturer hopes to benefit from input from the community, attract more customers for its desktop virtualization solution, and improve its market position.
Open source – finally and fully! The most interesting thing about the announcement [1] of the new XenServer version 6.2 is not a technical feature from the usual list of improvements: Citrix has released XenServer, its commercial product built around the open source Xen hypervisor, as free software. This bombshell make the manufacturer's previous Free, Advanced, Enterprise, and Platinum editions obsolete. For customers, there is only a single, free version that can do much more than the legacy Free Edition.
Taken Apart and Reassembled
Shortly after the release of the source code, the community began to decouple the components that define Citrix XenServer from the underlying Red Hat derivative operating system. The stated goal is to offer a XenServer core metapackage for as many Linux distributions as possible.
As the box "Xen, Libvirt, and Ceph" shows, this work has already been done for CentOS 6.4, and other distributions will follow. The concept for xenserver-core envisions three layers (Figure 1). In the near future, many prebuilt appliances will probably emerge that provide specially adapted images in the form of ISO image files. (Figure 2).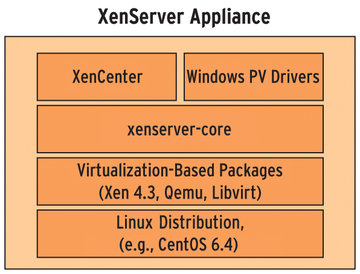 Although the release is still relatively new, it has quickly become apparent that XenServer development is benefiting from it. It took only a week until the first proposal [2] arrived, suggesting how to use this new freedom to bind XenServer to existing Ceph storage [3]. However, setups do not use normal Citrix XenServer installations, but an installation based on CentOS 6.4 and upstream versions of Qemu and libvirt.
The author of the how-to has put in some good preparatory work. After importing an additional repository, you just need to run yum install xenserver-core and call a setup wizard. After this, the system enters a state in which the Ceph storage pool can be integrated at the console and configured as a storage repository. This approach allows the admin to work in the normal way with XenCenter and create virtual machines that live in the Ceph storage pool.
Citrix, however, has not just published the hypervisor and its management: The manufacturer simultaneously released the XenCenter Windows client, which enables simple graphical administration. The development of the components, which are licensed under the GPL, the BSD, and a proprietary Citrix license [4], will be continued in the future by the Xenserver.org community [5], while the manufacturer offers commercial support for those who need it.
Although Citrix boldly states that this free release was not a big surprise – after all, essential components such as the Xen hypervisor itself have been open source for a long time – it seems likely that the truth is a little different.
Farewell to Server Virtualization?
Xen, which was synonymous with virtualization on Linux for many years from 2003 onward, and at the time provided the only serious competitor to VMware, was originally developed at the University of Cambridge and commercially marketed by the company XenSource. It changed hands in 2007 for no less than US$ 500 million. The purchaser? Citrix.
A long series of releases has followed. For example, Citrix released the Xen Management API (XAPI) and the Xen Cloud Platform (XCP), a XenServer version that consists only of open source components in 2009. In 2011, free XAPI packages for Debian and Ubuntu were added. In 2013, XAPI and Xen.org were placed under the roof of the Xen project, which is now managed by the Linux Foundation.
Given that Citrix itself is not necessarily regarded as an open source sanctuary by the community, the whole situation reeks of an exit strategy from what is no longer a lucrative market, despite the tenor of recent announcements. Realistically, the move reflects the current enterprise virtualization market: KVM has caught up with Xen in many respects, often making it obsolete, even though turnkey solutions for corporate use are still lacking, except for Red Hat Enterprise Virtualization [6].
Nobody seems to be capable of threatening market leader VMware's position, and Microsoft Hyper-V is expanding its market share continuously, even in the cloud, which is otherwise traditionally occupied by Linux and OpenStack [7]. To make matters worse, the database giant Oracle also offers its own virtualization solution that is also based on Xen.
Even if XenServer was never a significant revenue generator for Citrix as a standalone product, but more of an add-on for the company's other products, it does offer a basic technology specifically for the XenDesktop Virtual Desktop Infrastructure (VDI). VDI provides virtual Windows desktops and is a revenue generator for Citrix. Because this tool works best with an efficient and customized hypervisor, it is a good idea for Citrix to keep interest in Xen on the boil – which obviously is exactly what it expects from this open source strategy.
Escape into the Cloud
Another potential area of application for XenServer is the cloud, Because most admins tend to build clouds on free distributions, the comprehensive Citrix release was the trigger for a feature-rich, flexible, and, above all, cost-effective alternative. However, admins who build their clouds on commercial distributions with appropriate support contracts need to look at the Citrix tools. If you want to host a Windows cloud, XenServer is a good and above all affordable alternative to Hyper-V.
XenServer – and many enterprise Linux distributions or VMware vSphere – has been certified under the Microsoft Server Virtualization Validated Program (SVVP [8]) for a number of versions. Thus, Windows customers who need an option for running virtualized servers can still receive full support from Redmond. Rackspace, for example, has been using XenServer for its Windows cloud [9] for some time.
comments powered by

Disqus
---
---
---
Support Our Work
ADMIN content is made possible with support from readers like you. Please consider contributing when you've found an article to be beneficial.
---