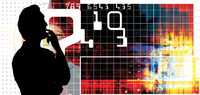 Enterprise resource planning and customer relationship management with open source
Big Business
Modern enterprises require powerful ERP and CRM solutions to manage processes, but the high cost of proprietary solutions can be prohibitive. We look at some open source options.
The complex business processes in a modern enterprise, from procurement through receipt of incoming goods, the flow of goods through production, and the delivery of goods to customers, are almost unmanageable today without the support of powerful enterprise resource planning (ERP) and customer relationship management (CRM) solutions. A robust and flexible ERP/CRM system is vital for a modern company.
Proprietary or Open Source
According to a survey by Panorama Consulting Solutions, the three leading providers of proprietary ERP software – SAP, Oracle, and Microsoft (the so-called Tier I suppliers) – currently have a combined market share of 54 percent. All Tier II suppliers (which include less complex solutions with a comprehensive range of functions, such as Infor and Epicor) had to settle for a total market share of 14 percent last year.
The rest of the market contenders – the Tier III providers – still account for a significant 31 percent cut of the cake. Tier III providers include industry-specific solutions that are tailored vertically and therefore can provide powerful functionality with minimal adjustments.
Proprietary ERP solutions admittedly have some benefits. ERP systems by the Tier I providers (SAP, Oracle, and Microsoft) score points with their sophisticated group-specific functionality, such as the ability to manage geographically dispersed sites in different countries in different languages and to model complex business processes in various industries. However, these group-specific features are mainly useful for large international companies and are not always beneficial to small and medium-sized businesses. The low added value of these features outside of large corporations is disproportionate to the considerable costs of implementing a Tier I solution. According to Panorama Consulting, these costs range in the single- to double-digit millions.
In addition to the high cost for a proprietary solution, users must contend with the problem of being locked in to a single vendor. The inflexibility and high cost of proprietary ERP/CRM tools has caused many companies to look for open source alternatives.
Open source ERP solutions offer two key advantages. For one thing, the company can take an open source solution for a test drive at virtually no cost to check in depth its suitability for enterprise needs. Additionally, users are free to modify the open source ERP system. The stronger the open source community of experienced developers, the easier the task. Many service providers now specialize in providing customized open source ERP software to small and medium enterprises (SMEs).
The Open Source Alternative
Open source ERP/CRM solutions are many and varied. Some are turnkey; others must be adapted. Some score points with powerful modules, and others with numerous experienced system integrators. Given that implementation of a CRM system can take up to two years to complete, it is not surprising that finding the perfect solution places an enormous burden on IT managers.
The evaluation of a CRM system begins with creating a requirements profile that maps all the relevant processes. The intent is to examine how to retrofit missing functionality or possibly add that functionality by integrating software packages, such as loadable modules, by different vendors. More or less any ERP system will do a satisfactory job of handling the standard functions (purchase order, goods receipt, invoice verification, etc.). Features for further automation of business processes, such as automatic data acquisition from suppliers, can further increase the practical benefits if they are implemented correctly and completely.
Exporters often face special requirements. Export declarations within the European Union have been regulated for over a decade by ATLAS (Automated Tariff and Local Customs Clearance System). The formalities basically involve filling out a form. Nevertheless, very few proprietary ERP systems, such as SAP ERP, can offer active support for ATLAS. However, whether these features justify the investment costs in an individual case is another matter. Many companies are willing to retrofit missing functionality.
The market for ERP solutions, especially in the upper price sector, is now clearly saturated. Although large companies have at least partly covered their needs, ERP software is still new territory for smaller businesses. Open source ERP software solutions come in many shapes and forms. Some systems are available only as a download for on-premises or cloud installations for which integrator support is available.
In this article, we highlight some popular open source ERP and CRM alternatives.
Apache OFBiz
Strengths:
Thin client solution allows hosting as a cost-effective solution
Supports open source and commercial databases
Supported operating systems: Linux, Unix, and Windows
Large user community
Extensive documentation
Weaknesses:
The point of sale (POS) module is relatively immature
Installation is extremely cumbersome
Apache OFBiz (short for Apache Open For Business Project [1]) is an automation framework implemented in Java and a suite of individual enterprise applications for various business tasks of the Apache Software Foundation. It includes an open source implementation of ERP, CRM, e-business/e-commerce, supply chain management (SCM), manufacturing resources planning (MRP), computerized maintenance management system/enterprise asset management (CMMS/EAM), POS, and other tools. The individual applications use a shared data model and shared process components.
Apache OFBiz can be modified without restriction; thus, it can be connected to external proprietary systems. After the (quite complicated) installation of Apache OFBiz on a Java platform, you can manage the system in your web browser (Figure 1).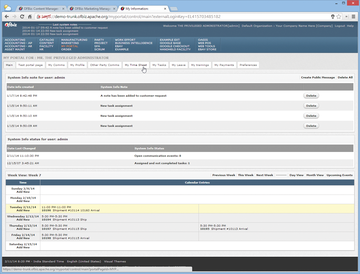 The solution impresses with remarkable adaptability. This property and the availability of specialized integrators has helped the framework attract an array of global users, including Germany's Horse123 Europe UG, the Web.de Internet portal (in cooperation with ilscipio GmbH), and PartnerHomes.com (the implementation was done in-house, without a system integrator).
OFBiz cooperates with, among others, MySQL, PostgreSQL, Oracle, Sybase, MS SQL Server, and IBM DB2. The OFBiz distribution includes Apache Derby, an open source Java database that runs on IBM Cloudscape and offers compatibility with DB2. You can see from SugarCRM what this freedom is worth. SugarCRM only offers support for Oracle and IBM DB2 in the commercial Enterprise edition.
Paul Piper, a Managing Director of ilscipio GmbH, confirms that Apache OFBiz offers "extraordinary performance and scalability" and refers to the system as "a hidden gem among enterprise-class ERP systems." Specializing in OFBiz, ilscipio GmbH received the Innovation Award from "Initiative Mittelstand" (SME Initiative) in 2012 and was also responsible for implementing OFBiz at Web.de.
comments powered by

Disqus
---
---
---
Support Our Work
ADMIN content is made possible with support from readers like you. Please consider contributing when you've found an article to be beneficial.
---