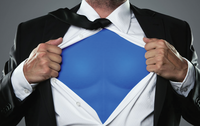 Turbocharge your network with Zeroshell
Zero to Hero
Turn an old unused computer into a state-of-the-art router.
Zeroshell is a Linux distribution that will help you roll out useful network-related services. If you are responsible for a group of networked computers on a small local area network (LAN), you can use the Zeroshell distribution to transform an aging, unused computer into a multipurpose gateway server with more services and flexibility than you can wring out of most off-the-shelf routers.
The Zeroshell Linux distribution provides various essential network services ranging from DHCP and firewall to virtual private network (VPN) and load balancing. It has a RADIUS server for WPA2 authentication, as well as a captive portal instance to create public hotspots. You can also use Zeroshell to shape network traffic, act as an HTTP proxy server, and even deploy a VPN. The icing on the cake is that you can do all this and a lot more from the comfort of an easy graphical interface.
Zeroshell has modest hardware requirements and works nicely, even on an antiquated Celeron box with 1GB of RAM. It's available as a Live installable ISO image, as well as a USB image. Before anchoring the distribution to the computer, you can experience it in all its glory from the Live environment. In addition to x86, the project also hosts images for several ARM-based single-board computers, such as the Raspberry Pi and the Orange Pi.
Broadly speaking you can deploy Zeroshell in two ways: You can let Zeroshell replace your existing router, or you can supplement it with Zeroshell. If used it as a replacement for the existing network hardware, you'll need to equip the Zeroshell server with two network cards, one of which will plug in to the Internet modem, and the other to a network switch that connects to the other computers on the network.
If the Zeroshell server only needs to serve a small number of computers, you can turn the Zeroshell machine into a wireless access point that's connected to the existing Internet-enabled router via Ethernet. Using the two in tandem is
...
Use Express-Checkout link below to read the full article (PDF).
comments powered by

Disqus