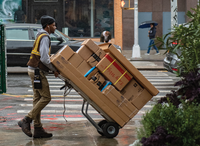 Grafana and Prometheus customized dashboards
Stand and Deliver
Grafana analytics and visualization dashboards plus the Prometheus monitoring and alerting tool make possible extensive custom reporting and alerting systems.
Visualizing data trends and issues when they arise is clearly of significant benefit, whether for applications or the systems on which they run. Having access to sophisticated tools that can provide highly customizable options to create bespoke visual dashboards is key and an important facet in being able to maintain high levels of uptime. A welcome bonus is if such tools are compatible with multiple types of data sources, so you can centralize your single-pane-of-glass viewing platform.
Step forward, Grafana [1]. It has the capability to gather metrics from all types of applications and treat each as an individual data source. From there, it is possible to query and filter results precisely to your needs. Coupled with another exceptional bedmate, Prometheus [2], it is possible to incorporate monitoring and alerting into a uber-capable, bespoke visualization toolset. Whereas Grafana is open source visualization software, Prometheus is an open source event monitoring and alerting tool. The two applications do have some crossover [3], though, and the dashboards from Grafana sit well with Prometheus' sophisticated time series handling [4].
In this article, I look at Grafana and Prometheus and how to get started with dashboarding.
Spirographs
For the example in this article, I'm using Linux Mint 20 (Ulyana), which has the long-term support (LTS) version of Ubuntu 20.04 running under the bonnet. In true DevOps style, I will not install Grafana locally, because in the past, I have seen some compatibility issues when running with Prometheus if it was also installed locally. Instead, I will use Docker containers for both Grafana and Prometheus.
For Grafana, I am using the
...
Use Express-Checkout link below to read the full article (PDF).
comments powered by

Disqus