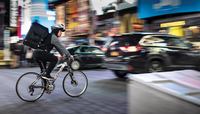 Setting up the lightweight Lighttpd web server
Fast Delivery
The long-established Lighttpd web server is lean and fast and can be set up quickly thanks to its simple configuration.
In terms of functionality, the small Lighttpd [1] web server need not shy away from comparison with more prominent competitors. Among other features, it supports virtual host strategies and can change its configuration to reflect incoming requests. If necessary, further functions can be added with the use of modules. For example, access to individual websites can be restricted, connections can be secured by TLS, and scripting languages can be integrated over the FastCGI interface, which also has a built-in load balancer that distributes incoming requests to multiple PHP servers.
By the way, the web server's name is pronounced "Lighty"; some websites even use this phonetic spelling as a synonym of the official name. Lighttpd supports HTTP 1.0/1.1 and encrypted connections over HTTPS. Versions 1.4.56 or later support the newer HTTP/2. Because of its small footprint, Lighttpd is often used on smaller or less powerful systems. For example, it is the engine for the popular Pi-hole [2] network filter and ad blocker. The easy-to-understand configuration file allows lightning-fast setup.
Quick Installation
Most distributions have Lighttpd in their repositories. On Ubuntu, you can install it with the command:
$ sudo apt install lighttpd lighttpd-doc
Some distributions keep only rarely needed modules in separate packages with names that often start with lighttpd- . In Ubuntu's case, lighttpd-webdav retrofits a WebDAV interface, for example. For your first steps with the web server, though, you will not normally need these modules.
To build Lighttpd from the source code, you need at least a C compiler, Make, the pcre-config tool, and the developer packages for Zlib and Bzip2. On Ubuntu, the command
...
Use Express-Checkout link below to read the full article (PDF).
comments powered by

Disqus