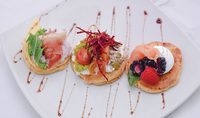 Automation with Chef
Tasty Recipes
The Chef automator borrows some of its vocabulary from the world of cooking. Its cookbooks contain good recipes for many recurring tasks, and admins can follow them to prepare palatable results with manageable overhead.
Chef has been around since 2009 and is one of the most popular systems for configuration management. Originally the company was called Opscode, but it later changed its name to Chef. Since the end of 2020, Chef has belonged to US software company Progress, which added a DevOps solution to its broad portfolio of development tools. Many well-known companies rely on Chef [1] to manage their infrastructure or even parts of their cloud. Facebook, Alaska Airlines, SAP, and Carfax are prominent examples.
Chef is written mostly in Ruby and is based on a client-server architecture with various optional components [2]. It can also be used in a standalone setup for simple use cases. Chef is surrounded by a robust toolchain for software quality, testing, and software life-cycle management, and this toolset is constantly being developed by an active community and Chef itself. The portfolio now includes 4,000 freely usable cookbooks for the configuration of software and several hundred plugins and additional tools. Unlike other tools, Chef focuses solely on the management of operating systems and applications, but not on the provisioning of virtual machines (VMs) or cloud infrastructure.
Basic Terms
To begin, we need to clarify some basic concepts on which the following explanations are based. Because the term Chef originates from cuisine, the names of many tools have been borrowed from the kitchen world with a wink of the eye; even newcomers will get this right away. Cookbooks contain recipes, and a supermarket provides the community additional cookbooks free of charge.
In addition to the cookbooks maintained by Chef itself, more than 150 cookbooks maintained by sous chefs supplement the ecosystem. This group of volunteers continually updates and expands all of the projects they oversee
...
Use Express-Checkout link below to read the full article (PDF).
comments powered by

Disqus