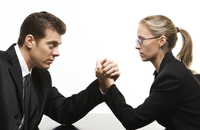 Configuration management with CFEngine 3
Principled
CFEngine 3 comes with a promise of more efficient configuration management and strict compliance with policies; however, it faces some tough competition.
Configuration management is the term used to describe the most automated and uniform management of systems possible with standardized tools. By means of special configuration languages, you feed your tool of choice instructions designed to convert target systems to the desired state and keep them there, taking the burden of implementing system management off the system administrator's shoulders.
Installing and configuring software, starting processes and services, creating users and groups, setting file permissions – the system administrator defines all these tasks once only and then lets the tool do the work. If a system deviates from the defined standard, configuration management straightens it out again. In this way, even small teams can automate the process of managing large system landscapes.
The most frequently used automation tools of this type include the well-known solutions Puppet and Chef, as well as Ansible, SaltStack, and, to a certain extent, Terraform. CFEngine 3 is less well known, although its predecessor was considered the first of a genre.
Credit Where Credit Is Due
For a long time, system administrators wrote scripts to manage a large number of systems uniformly. CFEngine was the first to set the principle of centralized and standardized configuration in stone as a software product. As early as 1993, Mark Burgess at the University of Oslo described CFEngine as a tool that enabled the administration of numerous systems with the help of an abstraction and a kind of configuration language. Growing use eventually resulted in the far more mature version 2 in 2002, which because of its reliability is still in use in some companies today.
As with other open source projects, the CFEngine project became increasingly commercialized with wider enterprise use, leading to the formation of a support and consulting services company in 2008. One year later, CFEngine 3
...
Use Express-Checkout link below to read the full article (PDF).
comments powered by

Disqus