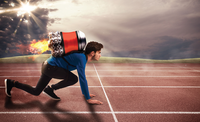 HTTP/1.1 versus HTTP/2 and HTTP/3
Turboboost
HTTP/2 introduced multiplexing, resulting in superior bandwidth utilization over HTTP/1.1, and HTTP/3 solves the problem of transmission delays from packet loss by replacing TCP with QUIC.
The Hypertext Transfer Protocol (HTTP) no longer just serves as the basis for calling up web pages, it is also the basis for a wide range of applications. The best known version, which is still used on most servers, is HTTP/1.1 – even though HTTP/3 has already been defined. In this article, I look at the history of the protocol and the practical differences between versions 1.1, 2, and 3.
The foundation for today's Internet was laid by British scientist Tim Berners-Lee in 1989 while working at CERN in Geneva, Switzerland. The web was originally conceived and developed to meet the demand for an automated exchange of information between scientists at universities and institutes around the world. As a starting point, scientists relied on hypertext, which refers to text with a web-like, dynamic structure. It differs from the typical linear text found in books in that it is not written so that readers consume it from beginning to end in the published order. Especially in scientific works, authors work with references and footnotes that point and link to other text passages.
Technically, hypertext is written in what is known as a markup language, which in addition to design instructions invisible to the viewer also contains hyperlinks (i.e., cross-references to further text passages and other documents in the network). Hypertext Markup Language (HTML) has become established on the Internet.
Starting with hypertext, scientists created HTTP, now used millions of times a day. The goal was to exchange the hypertext in the HTML markup language with other computers, for which a generally valid protocol was required. Today's Internet can be summarized in four points:
The text format for displaying hypertext documents (HTML)
Software that displays HTML documents (the web browser)
A simple protocol for exchanging HTML documents (HTTP)
A server that grants access to the document (the HTTP daemon,
...
Use Express-Checkout link below to read the full article (PDF).
comments powered by

Disqus