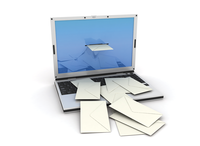 Ergonomics and security of graphical email clients
Inbox
We look at the ease of finding a way around current graphical email clients by investigating ergonomics, security, and extensibility.
For most use cases, email has long since replaced conventional letter mail as a means of communication. Companies in particular handle a large part of their correspondence by email, because it speeds up processes compared with snail mail; also, you can send arbitrary attachments.
However, modern email programs can do more than read, write, and send messages. They can also integrate the messages into corporate workflows. The email program often serves as a personal assistant, because it usually also manages contacts and appointments and can forward data to enterprise software through various interfaces.
Additionally, email communication can be automated, if required (e.g., allowing employees to send a vacation message to their communication partners). In this article, I take a closer look at what the common graphical email clients do in terms of user ergonomics, security, and extensibility.
Functionality
The heart of all email clients is the connection to the mail server. The client uses POP3 or IMAP to retrieve incoming messages from the server. Whereas the POP3 protocol retrieves messages from the server and moves them to the client, the IMAP protocol keeps the messages on the server, which allows mail to be viewed and edited without being tied to a specific computer. The email client also archives incoming email, so that it can be accessed, even without a connection to the server. Email is sent over the SMTP protocol, with convenient features such as a queue for outgoing mail.
Email clients can usually manage several accounts simultaneously and independently of each other. Additional functions, such as address books or conversion routines provided by the program, can be used with all accounts. Some programs offer prioritization of outgoing email and can send unimportant items with a time delay if you have a large volume of messages.
Another important criterion when
...
Use Express-Checkout link below to read the full article (PDF).
comments powered by

Disqus