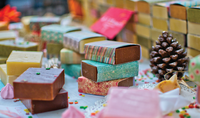 Zero-Ops Kubernetes with MicroK8s
Small Packages
A zero-ops installation of Kubernetes with MicroK8s operates on almost no compute capacity and roughly 700MB of RAM.
Among the number of burgeoning Kubernetes distributions available today is the excellent production-ready K3s [1], which squeezes into a tiny footprint and is suitable for Internet of Things (IoT), thanks to a binary of just 100MB. The perfect laboratory companion that offers immediate access to Kubernetes is the clever minikube [2].
Another distribution caught my eye recently when I was arriving, very late to the party, and tinkering with some fascinating Raspberry Pi tech: MicroK8s [3]. Two things jumped out when I spotted Ubuntu's mini Kubernetes documentation. First, as with K3s and minikube, a software build suitable for ARM64 processors (e.g., which a Raspberry Pi uses) is available; second, the documentation prominently notes zero-ops infrastructure.
I hadn't seen terminology about hands-off operations software since Amazon Linux 2 extolled its virtues about live kernel patching [4], which I started using on critical production servers about a decade ago. I can attest to the fact that it's a great feature that saved many 4:00am reboots (after kernel security updates were applied to a critical running system) and was an exceptionally welcome addition to my toolbox because it reduced maintenance windows and downtime considerably.
In this article, I look at how a Raspberry Pi 4 (Model B) with 4GB of RAM stands the tests of an installed Ubuntu MicroK8s (minimal production Kubernetes), courtesy of Canonical. Note that 4GB of RAM is definitely recommended; although, as you will see, you might possibly get away with 2GB.
Pie-O-My
As with other Ubuntu documentation, the different routes of getting started with MicroK8s are clearly written in welcome detail. The
...
Use Express-Checkout link below to read the full article (PDF).
comments powered by

Disqus