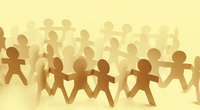 Linux infrastructure servers for small and midsize businesses
All Inclusive
Specialized Linux distributions are available for small and midsize businesses that promise economical and easy management of server applications and entire IT infrastructures. We looked at four of the best known candidates: ClearOS, NethServer, Zentyal, and Univention Corporate Server.
Large networks tend to have at least one virtual machine (VM) per service. Small networks do not need this complexity and can combine a whole range of services on a single machine. So that setting up and managing all these services is not too difficult, special small and midsize business (SMB) editions of Linux distributions substantially simplify how services are handled. Alternatively, you could add extensions to regular distros that support service configuration over a web user interface (UI). However, these tools do not typically cover a full suite of services. The special Linux distributions for SMBs provide convenient configuration tools, and they are typically backed by an organization that offers service and support. We investigate four of these Linux SMB distributions: ClearOS, NethServer, Zentyal, and Univention Corporate Server (UCS).
ClearOS: In the Slow Lane
The ClearOS [1] Linux derivative is provided by the ClearFoundation nonprofit organization from New Zealand, formerly known as ClarkConnect. Like Oracle Linux or the former CentOS (today Rocky Linux), ClearOS is based on the open sources of Red Hat Enterprise Linux (RHEL). Unlike RHEL and Rocky, however, ClearOS is still based on the legacy version 7 and not on the current release 8.
ClearOS is distributed in several versions. In addition to the free community edition, they have commercial variants with support, such as the version by ClearCenter, partnered with Hewlett Packard Enterprise (HPE), which offers ClearOS on ProLiant servers, including the MicroServers. ClearOS operates an app store through which ClearOS installations can source additional services, and again this means free and commercial add-ons.
Unfortunately, the community and the manufacturer's activities online show that things have gotten quiet in the ClearOS camp, with no commits on the ClearOS
...
Use Express-Checkout link below to read the full article (PDF).
comments powered by

Disqus