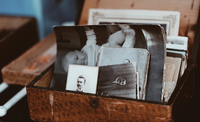 Versioned backups of local drives with Git
Genealogy
Versioning is a recommended approach to back up files as protection against hardware failures and user errors. To create versioned backups, you can use established backup programs or an open source tool that originates from the developer world: Git.
Despite cloud and file servers on the corporate network, users still store important files on the local hard drives of their workstations or laptops. Modern solid-state drives (SSDs) lull users into a deceptive sense of security: Thanks to technologies such as self-monitoring analysis and reporting technology (S.M.A.R.T.) and wear leveling, these data storage devices can predict their demise and usually warn the user in time before a disk failure. However, valuable data is rarely lost by spontaneous disk failure. More often, the cause of data loss is the users themselves accidentally deleting or overwriting files. If you travel with your laptop, you also have to worry about losing the device or damaging it irreparably.
A device and its operating system and applications can be replaced quickly, but it's a different story for user files. Therefore, every user with important files on their local computer needs a viable backup and restore strategy that covers the following functions:
Multilevel file versioning
Local backup
Remote backup over local area network (LAN)
Optional remote backup over wide area network (WAN)
Backup and recovery independent of the operating system
On the free market, all common operating systems have tons of backup programs – many with inexplicably confusing user interfaces. For most users, the backup chain ends at the USB drive, but if you want to back up your data, it is better to use a network share. Common cloud backup tools, on the other hand, back up directly to the connected cloud and therefore only work if you are online.
Backup with Git
The Git [1] tool supports code versioning, shows the details of the differences between saved versions, and allows multiple developers to work together on a project. Because it works online and offline,
...
Use Express-Checkout link below to read the full article (PDF).
comments powered by

Disqus