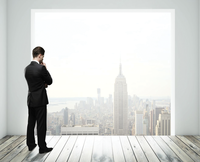 Setting up Google Apps for Work
The new office
We show how to set up Google Apps for Work and how to configure them for company use.
Google's collection of workplace applications, known as Apps for Work, is a completely browser-based suite containing various office applications and a videoconferencing system, along with well-known email function and online store. The aim of this product offering is to give people the opportunity to collaborate on projects, no matter where they are, and to exchange information as if they were sitting in the same office.
In this article, I show how to set up Google Apps for Work and how to configure them optimally for company use. In doing so, I will discuss browser-based administration and the available iOS and Android apps. (See the "Features" box for more details before getting started.)
Google Apps for Work features include:
Business email addresses
Video and voice calls
Online calendar
30GB of online storage space for file synchronization and sharing
Online text documents, spreadsheets, and presentations
Project website builder
Security and administration functions, email, and telephone support
Google Apps Unlimited (with unlimited storage and Google Vault) includes all the features listed above and:
Unlimited storage space (or 1TB per user, if the company has fewer than five users)
Advanced administration for Drive
Checking and reporting functions for Drive content and sharing
Google Vault for eDiscovery of email, chats, documents, and files
Search and export functions for different formats
Archiving all sent email, including defining retention policies
You can start the Google Apps for Work registration process [1] by clicking the Get started button and then specifying your name, business email address and some other details. After you click Next , the wizard will ask whether you want to use an existing domain name or register a new domain. If you already have a domain name, enter it in the Your own domain field and then click Next .
The next step is to create a Google Apps account with name@domain.tld ; then, you can enter a password and indicate an alternative email address. The registration wizard will then guide you to the Admin console, which was renewed at the start of the year (Figure 1). In the future, you can log on directly to the console via https://admin.google.com . The service costs depend on the functions and storage space used and are $5-$10 per user per month.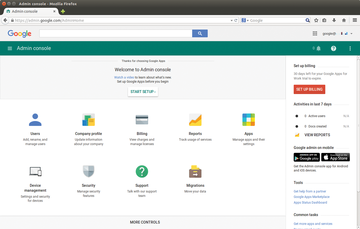 You will see a few menu items in the Admin console; clicking More Controls in the footer will show more. Depending on which options you use most often, you can drag these icons from the footer to the dashboard or place less frequently used items in the footer area by dragging and dropping.
Domain Verification
The setup wizard will guide you through the first few steps. The central functions are email and the associated user management. User management needs its own Internet domain, which you have to confirm first. Just click on the Verify domain button. You now have various ways to identify yourself as the domain owner: incorporating a Google verification line in your website's source code or copying an HTML file into the domain website's root directory. You might already be familiar with this type of check from setting up Google Analytics.
If you only use the Internet domain as an email domain, or if you don't have web hosting access for some other reason, you will need access to the name server to perform a supplementary CNAME or TXT host record entry there. Google will check the confirmation after the wizard has guided you through the confirmation process. Then, you can continue setting up user accounts.
New Users via CSV Import
Even if you want to migrate email accounts from an existing mail server later, you need to set up the corresponding users first. Just click Add more users in the setup wizard and select whether you want to add a user manually, create several users at once, or invite a new user. I will describe the first two options because, in my experience, they are the most common.
Click Add a user manually and then Continue . Enter the first name, last name, and email address in the next dialog. If necessary, you can include a secondary email address, telephone numbers, and postal addresses via the Additional information link. Click Create new user to complete the process. The dialog that opens next displays the temporary password and the URL for logging on. You can send this information via email.
To set up multiple users at the same time, click Add more users again, and this time select Add several users at once and then Continue . The following dialog gives you the option to download a sample table in CSV format and, if necessary, to enter existing users. Download this table, edit it, add new users, and upload the updated CSV file. You have the option to deactivate or activate the Require a password change when new or updated users sign in instruction. Then, confirm by pressing Upload and continue . If there is a syntax error with the file, the dialog will show this. Otherwise, it closes automatically.
If you have your own LDAP directory server, Google Apps provides the Directory Sync tool, which you can use to import users and groups automatically into the Google Admin control panel. From there, you can use them in the system.
Setting Up Gmail
To receive email via Apps for Work, the next step is to set up Gmail or configure the Internet domain. Just click Set up Gmail in the wizard and this will take you to the process for setting up the domain and forwarding email. The instructions here describe how to change the mail server into a Google server using the MX records from your domain. This is needed so that the Google mail server will process your users' email and make them available via Apps for Work in the future.
You will need to access your Internet domain's domain name service (DNS) for this. For the switch to take place smoothly, it is helpful to change the domain SOA level to Quick updates a few days before. This ensures that the DNS server implements the changes promptly and, above all, that other name servers query them at very short intervals.
Clicking Set up email service will take you to a step-by-step guide of how to make the required settings. Once you have followed these steps, Google will check whether the DNS server is providing the settings properly. This check can take up to an hour. The Google mail server then receives email for users in the system.
comments powered by

Disqus
---
---
---
Support Our Work
ADMIN content is made possible with support from readers like you. Please consider contributing when you've found an article to be beneficial.
---