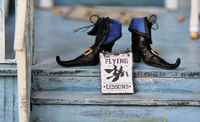 Tinkerbell life-cycle management
Magical Management
Tinkerbell specializes in bare metal deployment and life-cycle management, allowing intervention in every phase of the setup.
The subject of bare metal life-cycle management is a huge topic for providers today (see the "Early Efforts" box). Red Hat, Canonical, and SUSE all have powerful tools on board for this task. Third-party vendors are also trying to grab a piece of the pie, one of them being Foreman, which enjoys huge popularity.
Debian Installer has offered preseeding from the start for hardware management; that is, you could pass in a number of presets to the installer in the form of a text file. Configuration settings that exist in the preseeding file are then not requested by the installer. If you answer all of the installer's questions by preseeding, Debian can be installed in a completely automated process. The free distribution is by no means the only one to support automation: Red Hat has Kickstart and Anaconda, and SUSE has AutoYaST2. Moreover, external projects like Fully Automatic Installation (FAI) can handle different distributions.
However, all these approaches are based on various assumptions about the existing infrastructure: One assumption is that the admin can find a way to start the setup routine of the respective system.
In the small, conventional environments of years past, this assumption was fine. Reinstalling hardware in the data center was not a recurring task. Once the admin was on site, they could quickly install systems one after another in an automatic process involving an appropriately prepared image.
Today, however, this approach no longer works. Today's massively scalable environments (e.g., to operate Kubernetes fleets) frequently need to be expanded – with dozens or hundreds of systems being added. In recent years, therefore, the principle of the bare metal life cycle and management to match have emerged. The idea is that as soon as a machine is unpacked and wired up in the rack, it can be installed automatically and remotely at the push of a button. As part of this process, the machine is also equipped with the appropriate software; a short time later, it is up and ready for production.
A vendor you might not expect is now also getting into the mix, with Equinix launching its Tinkerbell tool. Primarily a provider of data center and network infrastructure, Equinix is looking to manage a kind of balancing act with Tinkerbell. The tool is intended to enable customers to provision bare metal nodes in Equinix data centers just as easily as virtual instances in cloud environments.
Open Source Tinkerbell
With its Metal service, Equinix has been hunting for customers for several years. Customers used the company almost exclusively as a hoster. If you were looking for a collocation for your own setup, Equinix was the right choice. In this constellation, however, the customer has a number of different tasks ahead of them: Procuring the hardware, mounting it in the rack, and cabling correctly are just a few.
Equinix Metal instead offers servers in the form of bare metal at the push of a button: Servers that Equinix keeps on hand are automatically configured to be available exclusively to a customer. Tinkerbell makes it possible to provide the systems with exactly the kind of basic equipment admins needs for their environments. In the meantime, Equinix put Tinkerbell under a free license and published it on GitHub. The service can therefore also be used outside of Equinix Metal. In this article, I show in more detail what distinguishes this solution from other systems for bare metal management.
They Already Have That?
Although bare metal life-cycle management sounds very much like marketing hype, in essence, it's all about the ability to (re)install automatically any infrastructure (e.g., servers) at any time. Moreover, the automatic removal of a machine from a setup, known as decommissioning, plays a role – albeit a noticeably subordinate one. A system that has to be reinstalled during operation because of a misconfiguration is a more common occurrence than the final shutdown of a component.
In fact, bare metal life-cycle management is a concise term for a principle that has been around for decades. The protocols that are still in use today – in Tinkerbell, too, by the way – can all look back on more than 30 years of existence. Combining them to achieve a fully automated installation environment is not new either. As an admin, you will always encounter the same old acquaintances: DHCP, PXE, TFTP, HTTP or FTP, NTP – that's it. This begs the question: What does Tinkerbell do differently than Foreman or an environment you create [1]?
A Bit of History
A detailed answer to this question can be found in a blog post by Nathan Goulding [2], who is part of the inner core of the Tinkerbell developer team and cofounder a few years ago of Packet, the company that launched Tinkerbell and now goes by the name Equinix Metal. Packet was originally independent and offered a kind of global service that could roll out systems to any location. After its acquisition by Equinix, the focus is now on Equinix's data centers, but Tinkerbell can be used entirely without an Equinix connection.
The developers' original motivation, according to Goulding, was to create a generic tool for bare metal deployments that would be as versatile as possible. However, it was by no means intended to mutate into a multifunctional juggernaut – unlike Foreman, for example, which has long since ceased to be all about bare metal deployment and, instead, also integrates automators and performs various additional tasks. One of the motivations behind Tinkerbell, claimed Goulding, was that existing solutions had made too many compromises and were therefore unable to complete the task at hand in a satisfactory way.
comments powered by

Disqus
---
---
---
Support Our Work
ADMIN content is made possible with support from readers like you. Please consider contributing when you've found an article to be beneficial.
---