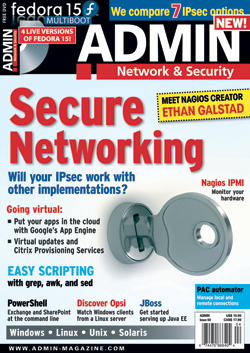 Issue 4: Secure Networking
Now serving: IPsec implementations; Open-Xchange 6.20; Request Tracker ticket system; VMware remote access.

Download this issue as a PDF:
100 pages
Price $15.99

Don't miss an issue of the magazine for admins! Subscribe now!
Issue #4 will be shipped to subscribers and available on newsstands starting approximately:
UK/Europe: July 18
North America: August 12
Australia: September 12
Cross-Vendor IPsec – We interconnect a few IPsec implementations, including Racoon, Solaris, Windows, Juniper SRX, Cisco IOS, Check Point, and Fortigate.
Open-Xchange – Meet the new interfaces in version 6.20 as we take a look at installation, the web GUI, and Oxtender support.
Request Tracker – This powerful help desk system lets admins take control of their support processes.
Remote Access – Use the Firefox v3.6 browser plugin for remote access to VMware servers without the need to fire up your Firefox browser.
Tools: Save time and simplify your workday with these useful tools for real-world systems administration.
Google App Engine – Enjoy automatic scaling and load balancing of your web application with Google App Engine.
MariaDB vs. MySQL – Explore the differences between the popular MySQL database and the recent MariaDB alternative.
Pulp – Manage multiple Linux software repositories by mirroring several remote repositories onto your local server system.
Univention – Univention Corporate Server 2.4 implements an OpenLDAP domain concept, a GUI, and a Xen- or KVM-based virtual machine manager.
News: Find out about the latest ploys and toys in the world of information technology.
Admin News – An ARM version of Ubuntu Server is scheduled for the Fall; Xen founders leave Citrix to form Bromium; Dropbox reveals a security bug; and more.
New Products – Toughbook, a ruggedized Android Panasonic tablet; AssuredSAN 3000, Dot Hill 36TB 2U storage; TS130/TS430, Lenovo ThinkServers for SMBs.
Interoperability: Make sure the components of your mixed operating system environment "play nice" together.
Opsi – The latest Opsi update adds slow-line installation and update, cloud servers for distributed clients, and dynamic repository assignments.
Citrix Provisioning Services – Employ central management by streaming an update or patch image to multiple servers or desktops.
Management
Windows Monitoring – Watch your Windows networks with NetCrunch and PRTG, as well as the iPRTG monitor for smartphones.
Nagios IPMI Plugin – The Nagios IPMI plugin helps you monitor server hardware and services.
Nuts and Bolts: Timely tutorials on fundamental techniques for system administrators.
JBoss Server – Server up Java EE applications on your own network with this popular open source application server.
PAC Manager – Manage remote connections with the Perl Auto Connector, a GUI for SSH, Telnet, and other protocols.
Script Utilities – We take a close look at the three indispensable scripting tools: grep, awk, and sed.
PowerShell – Administer local and remote Windows systems from the command line with PowerShell extensions for Exchange and SharePoint.
* Google Play Magazines available in AUS, CA, FR, DE, IT, UK, USA
---
---
---
Support Our Work
ADMIN content is made possible with support from readers like you. Please consider contributing when you've found an article to be beneficial.
---