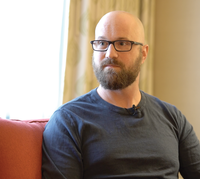 This Linux hardware company puts the emphasis on freedom and privacy
Change the Future
Purism is a hardware vendor with the credo that the latest technology should not cost you your freedom. We interview Purism CEO Todd Weaver.
I met Todd Weaver, the founder and CEO of Purism, in San Francisco when I was there for Red Hat Summit 2018. We sat down for an hour-long interview before heading out for some drinks. You can watch the whole interview on our channel TFiR TV [1] (URL).
Purism [2] is a company that offers hardware preloaded with Linux-based distributions. Purism has created its own Debian-based Linux distribution called PureOS that runs on the Librem laptops and 2-in-1 detachable laptop-and-tablet devices. The company is also working on a Linux based smartphone called Librem 5.
The Brief History of Purism
As a long-time free software advocate, Weaver felt frustration every time he went to the store to buy a new device. He was concerned with the way computers were becoming a threat to privacy, security, and freedom. Having kids made him even more determined to "become the change he wanted to see in the world."
He could easily give up convenience and choose not to use these devices, a route advocated by Richard M. Stallman and others. But he knew that not everyone was willing to make that sacrifice. At the same time, he didn't want to deprive his kids of the latest technologies. He wanted to find a balance point where he could access the benefits of modern technologies without all the risks associated with them.
"My approach is that all of those advancements are great. We should just do them all ethically. The clear line of bifurcation for existing companies is that they have to drive for maximizing shareholder value, which means that, when presented with an opportunity for gathering up more data on an individual or creating a backdoor to maximize advertising dollars, they have to do it. They have a fiduciary duty to maximize shareholder value."
So Weaver set out to build a company that would create products that will support the three pillars he believed in: privacy, security, and freedom for users. But, it's not just the operating system or the laptops that set Purism apart from its competitors. What makes Purism unique is the fact that it's established as a social-purpose corporation as opposed to a C corporation.
"As a social purpose corporation, we can go to the opposite extreme and say, we can still advance and create amazing technology, but we're going to do so ethically," he said, "The systemic difference between Purism as a social purpose corporation and C corporations is that we have a social purpose first."
Purism brings an emphasis on privacy and freedom that is extraordinary even for a Linux company. The company's PureOS Linux variant is one of only nine full-sized Linux distributions to make the Free Software Foundation (FSF) list of "Free GNU/Linux Distributions" [3], which means that it does not provide "non-free programming platforms, non-free drivers, non-free firmware 'blobs', non-free games, or any other non-free software, as well as non-free manuals or documentation." (BTW, even Debian isn't free enough to make the FSF list.) Purism even created its own web browser because they believe the mainstream open source browsers do not pay enough attention to the "four browser freedoms" described on the company's website (Figure 1).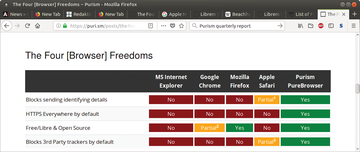 Many in the free software world avoid technologies such as smart cars or Internet of Thing (IoT) devices out of concern for privacy and dislike for closed source, proprietary software. The common approach within a small circle is to boycott such devices. However, the reality is that people are using these devices. Weaver is aware of that reality. He knows people want convenience and tries to work with the new technologies to make them fit with his vision for privacy and freedom.
For instance, Purism hardware comes with a physical kill switch that you can use to physically disconnect components like the webcam, microphones, and networking chips. No need to put a tape on your webcam. You can flip a hardware switch and disconnect the camera.
A Bit About Hardware
Okay, Purism doesn't build its own hardware. Not yet. Building your own case for laptops is a very expensive process. Like many other vendors, Purism uses public molds sold by original device manufacturers (ODMs).
"We take public molds and modify them to our needs to add kill switches, reprint keys, and so on," said Weaver. It keeps the cost of Linux laptops down while giving Purism enough room to make custom changes to the hardware.
"We have a full list of what we source versus what we modify and what we manufacture entirely. The motherboard, for example, is an Intel reference design that we modify to our needs. We add the kill switch, reroute certain components, add a TPM, add additional RAM slots, and so on," said Weaver. "We have started to gain more leverage. As we are growing as a company, we are able to influence the mechanical and industrial design of our hardware. You will see more customization in the devices that will be coming out later this year."
But Purism is not stopping at Linux-powered laptops. Weaver is looking at "computing" in general. Smartphones and IoT devices are the next step in the evolution of personal computing.
The company has already announced its plans for Librem 5, a Linux-powered smartphone. Purism says it is already 71 percent over its $1.5 million funding target for building the new phone, with advance orders currently at $2.5 million [4].
Unlike with the laptops, Purism will have total control over Librem hardware and software. It will be designed in-house, all the way from schematics to fabricating the PCB. "We have worked with individual groups in China for fabrication," said Weaver.
The work Purism is doing on the phone will also trickle down to laptops. "As we do more of this work, it will also be replicated in laptops, allowing us to do the complete manufacturing of the laptops in-house. Our growth enables us to invest resources into the expensive process," he said.
Can Purism Succeed Where Canonical Failed?
As excited as Weaver is about Librem 5, he is not the first one to take on the duopoly of Apple and Google. Canonical came closest to realizing the dream of a Linux phone. But despite Mark Shuttleworth's deep pockets, the popularity of Ubuntu, and an ambitious Indiegogo campaign, the Ubuntu phone didn't materialize. I asked Weaver what makes him think he would succeed where Canonical failed?
Weaver pointed out a couple of key differences between Canonical and Purism. "What Canonical was trying to accomplish was putting Ubuntu on phone, as opposed to what we are trying to do. We are trying to create a platform that is built around the three pillars we believe in. We are trying to change the future," he said.
Canonical didn't have any experience in hardware. "We have the ability to do all of it and more with a lot less money," said Weaver. "Timing could also be a factor. Canonical managed to raise only $12 million out of $32 million that they were asking for. At that time, it was not enough money because fabrication is expensive."
When we put all of this together, Purism may have a better chance at success than Canonical. Any discussion around the phone is incomplete without discussing apps. Even if Purism manages to build and sell an affordable phone, without apps it won't get any traction. Despite its deep pockets and influence, Microsoft failed with Windows Phone because it didn't have the app ecosystem that would lure a potential user.
Weaver is aware of this challenge, and he seems to have borrowed some pages from Steve Jobs' books. Apple didn't succeed because it created Macintosh for everyone. Apple targeted a niche that had money and hunger for a good looking and "it just works" experience. Purism has its own niche. It has targeted those who want security, privacy, and freedom.
Weaver has built a beachhead, and he plans to expand it as the platform grows. Initial phones will address the needs of this niche market, and as the platform grows, so will the app ecosystem around it. "We have the core audience, which can still grow, and that's already millions strong."
comments powered by

Disqus
---
---
---
Support Our Work
ADMIN content is made possible with support from readers like you. Please consider contributing when you've found an article to be beneficial.
---