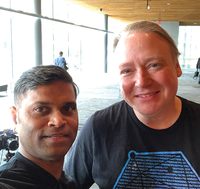 On the ground at the Linux Foundation's signature event
Open Source Summit North America
On the first day of the summit, Jim Zemlin, the executive director of The Linux Foundation, discussed the explosive growth of open source and especially how Hollywood has embraced it.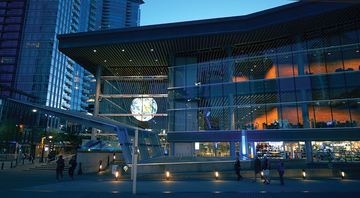 On the first day of the summit, Jim Zemlin, the executive director of The Linux Foundation, discussed the explosive growth of open source and especially how Hollywood has embraced it. He shared that The Linux Foundation is now home to the Academy Software Foundation (ASWF) project, which bears the coveted name from the Academy of Motion Picture Arts and Sciences, along with their support.
He highlighted that, today, 100 percent of supercomputers run on Linux, 80 percent of mobile devices run on Linux-powered Android, and most cloud workload runs on Linux; even Microsoft admits that more than 50 percent of Azure virtual machines run Linux.
Zemlin pointed out that in addition to the kernel, the foundation is home to the open source project Kubernetes, the certification authority Let's Encrypt, and the blockchain technology Hyperledger.
"Maybe we will have a seat at the Academy Awards," quipped Zemlin. "Open Source is making an impact on the world as a technological, innovative, and social movement," he said.
Wealth Distribution in an Open Source World
The opening keynote was followed by Storj founder Shawn Wilkinson and CEO Ben Golub. Golub focused on how open source and decentralization empowers individuals. He also pointed out an imbalance, despite the popularity and mass adoption of open source.
There are over 24 million open source developers, but roughly 17,000 are employed by public open source software (OSS) companies. In a $180 billion cloud market, open source companies manage only $5 billion of the market. Golub highlighted the imbalance between the business and developer side of the open source world and the need to exploit this market. He feels a new marketplace for open source projects, companies, and individuals is possible.
"We don't want a world where only 10 companies make money out of open source," said Golub, "Can we drive direct meaningful broad economic growth in open source from the cloud? The answer is yes, but it will take a new type of cloud, which is built around a decentralized infrastructure."
Storj is building that fully open source decentralized cloud. Wilkinson joined Golub and talked about his own journey – how he created Storj when he was trying to scratch his own itch of finding inexpensive and safe cloud storage solutions.
Storj is building an Airbnb-like service for users with surplus storage and networking bandwidth. Users can monetize from their hard drives. At the event, Storj announced a new program for open source vendors that creates a revenue stream by using the decentralized Storj platform.
Stressing the role of "cloud" or network in the modern economy, Wilkinson paraphrased John Gage's famous quote "The network is the computer" by saying "The network is the marketplace."
Making Mainframe Modern Again
Another major event highlight was the announcement of Zowe, a new open source project to bring mainframes to the 21st century.
"Most people working on mainframes are around the age of 60. The technologies used on mainframes have also aged; interfaces are also aged. We came together to open source the platform and make it appealing to the modern generation," said Anjali Arora, chief product officer at Rocket Software in an interview with Linux Magazine .
Zowe is a Linux Foundation Collaborative Project with initial backing from IBM, Open Mainframe, Rocket Software, and CA Technologies.
Another highlight was a keynote discussion with Van Jones, president and founder of the nonprofit Dream Corps and CNN contributor. The discussion was hosted by Jamie Smith, former Obama administration deputy press secretary and current Linux Foundation CMO. They talked about a wide range of topics, including diversity.
Torvalds: Unbeliever in Quantum Computing
The real star of the event was the keynote discussion with Linus Torvalds, hosted by his close friend Dirk Hohndel, VP and chief open source officer of VMware. The duo discussed Intel and security bugs. Torvalds said he is a strong unbeliever of quantum computing. He also said that hardware performance is not improving as people expect. "I think Moore's law should not be taken for granted," said Torvalds.
Torvalds feels that people may go back to software to improve performance instead of relying on hardware. What he really believes in is neural networks, as he studied artificial intelligence during his college days.
Hohndel said when he was studying, AI was a big new thing; even today AI is a big new thing, and maybe one day it will be a big new useful thing. To which Torvald's responded, "By that time maybe there will just be an 'I' and then we are done."
At the same time, he also talked about the importance of college, even for open source developers who can learn everything on their own. Most open source developers don't have a computer science degree; they are self taught.
Hohndel tried his best to bait Torvalds into saying something headline worthy, but Torvalds steered clear of most baiting by his good friend.
comments powered by

Disqus
---
---
---
Support Our Work
ADMIN content is made possible with support from readers like you. Please consider contributing when you've found an article to be beneficial.
---