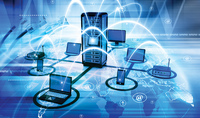 Automating network hardware
Plug and Go
Automation of network devices can be accomplished in a number of ways: with the official approaches recommended by the manufacturers; by Cumulus Linux, an open network operating system; and with the Ansible automation platform, which can communicate with devices from any vendor.
No matter how an admin twists and turns, there is no avoiding the fact that automation at the network level makes as much sense as at the server level. Unfortunately, implementing this kind of automation is far more difficult. Juniper, Cisco, and Huawei, for example, have their own ideas and strategies relating to how their devices can best be given a valid configuration automatically. On the other hand, approaches such as Open Networking rely on standard tools because standard interfaces are available on the device side. Another powerful competitor in the network infrastructure automation game is Ansible, which impresses with its diversity when it comes to communicating with devices from any vendor.
Not so long ago, many system administrators viewed the topic of automation with a mixture of indifference and suspicion. The arguments of people who did not want to deal with Ansible, Puppet, and others varied between "automation destroys jobs" and "it is not worth automating that task because it only has to be done once." Fortunately, those days are over, and most admins now view automation in their environments as a basic necessity.
After all, it makes no sense to have expensive IT personnel with amazing skill levels do the same tasks over and over again when they could just as easily be developing useful new products for the enterprise. Claiming that individual jobs only need to be done once proves to be misguided in the vast majority of cases, and you can assume that the job will need to be done at the most inopportune moment – in the context of an outage, when the administrator then has to reconstruct manually something they dreamed up in the dim and distant past under time constraints.
It is quite remarkable, though, that the automation stories of many companies still have some ugly gaps, fundamentally establishing a kind of two-tier society within the confines of a single enterprise. For example, the vast majority of
...
Use Express-Checkout link below to read the full article (PDF).
comments powered by

Disqus