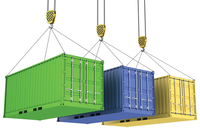 Kubernetes for small and medium-sized enterprises
Advantage Small
We look at the benefits of Kubernetes outside of large corporate environments.
Hype is not unusual in IT and is initially met with an innate sense of distrust by admins, who tend not to want to deal with all of that new-fangled stuff. This was the case with cloud computing – which many thought was a flash in the pan – as well as during the rise to fame of the fleet orchestrator Kubernetes, which many observers categorically ruled out.
In 2022, it's clear that Kubernetes and containers are here to stay. In many places, the benefits of the solution are so huge that admins quickly turned from container skeptics to container enthusiasts, especially in large companies and corporate environments. According to a survey by SUSE [1], more than 60 percent of companies whose IT budgets exceed EUR10 million per year have cloud-native applications, whereas cloud-native is a distant also-ran among smaller enterprises.
It's easy to get the impression that containers offer little or no added value for smaller companies. But is that really true? Do small and medium-sized enterprises (SMEs) really have nothing to gain from Kubernetes if their IT fleet is smaller (i.e., if they don't have a server fleet of thousands of devices)? In this article, I explore this question and show how even smaller companies can benefit from Kubernetes.
Defining the Terms
To identify the benefits of modern technologies, even for smaller enterprises, it is useful to define the terms clearly. Although terms such as container, Kubernetes, cloud-native, and microarchitecture are mixed up in public discourse and sometimes used as synonyms, one thing is clear: Containers and Kubernetes are not the same thing, and the use of containers does not mandate the use of modern applications that follow the microarchitecture approach.
Therefore, it makes sense to look at containers and fleet management separately to identify the sweet spots for SMEs.
...
Use Express-Checkout link below to read the full article (PDF).
comments powered by

Disqus