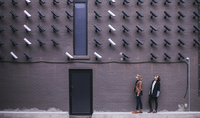 Security features in Windows Server 2022
Fine Tuning
The release of Windows Server 2022 adds some new security features to its server operating system that might not be earth-shattering; however, you will find Secured-core, DNS over HTTPs, TLS 1.3, and Azure Stack HCI genuinely useful in your constant fight to harden server operations.
Compared with Windows Server 2019, spectacular changes to Windows Server 2022 are few and far between. However, the sum total of improvements make the latest version a more secure option than its predecessors. For example, the 2022 release comes with new Group Managed Service Accounts (gMSAs) for Windows containers without having to add the host to the domain. This change enhances security for container hosts that you do not want to be part of your Active Directory.
If you deploy Windows Server 2022 on Microsoft Azure, you can select the images on which Azure security policies are automatically enabled, which is clear evidence of Microsoft's focus on security with its new operating system. Another factor is replacing the aging Internet Explorer on servers. Windows Server 2022 comes with the state-of-the-art Edge browser preinstalled by default in the core.
Beyond these changes, Microsoft's new Security Baseline for Windows Server 2022 ensures superior protection with additional security settings and recommendations delivered by group policies. In combination with Windows 11, Windows Server 2022 offers greater security than the combination of Windows 10 and Windows Server 2019, which makes it worth your while to take a closer look at the opportunities these innovations present.
Secured Core
Windows Server 2022 also sees Microsoft introduce the Secured-core server, which, in simple terms, is the security standard for a Windows Server, wherein the operating system optionally uses the hardware functions for greater security, and conversely, the server hardware is precisely designed for Windows Server 2022. Secured-core server gives the enterprise a coherent combination of hardware, drivers, software, and Windows Server 2022.
Secured-core uses hypervisor-protected code integrity (HVCI), kernel direct memory access (DMA) protection, SystemGuard, Secure Boot, virtualization-based
...
Use Express-Checkout link below to read the full article (PDF).
comments powered by

Disqus