Energy Efficient Servers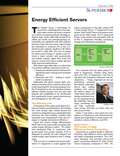 The Gartner Group estimates that, to stay competitive, data centers will eventually need to support workloads 300% higher than current levels. Large enterprise data centers often pay utility bills exceeding $10+ million per month, and even smaller facilities will achieve significant savings with more efficient power usage. The return on investment payback period for energy improvements is often less than 2 years. Power-hungry IT systems have become a major concern, and governments and private industry agree they must find ways to control and reduce energy demand through more efficient server design.
Welcome to the Resource Library
Download this asset in three easy steps:
Enter your email address below.
If this is your first visit, we will ask you a few questions.
Proceed to the download page.