Inside the Lustre File System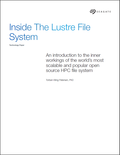 A major trend in Lustre adoption and proliferation is that Lustre is no longer only used for the original purpose of constituting a scratch file system for HPC computations. Today, Lustre is increasingly used as a file system for home directories as well as for project space. This is an introduction to the inner workings of the world's most scalable and popular open source HPC file system.
Welcome to the Resource Library
Download this asset in three easy steps:
Enter your email address below.
If this is your first visit, we will ask you a few questions.
Proceed to the download page.