Are you ready for Windows 8?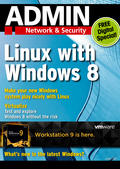 If you're in charge of making the computers on your network communicate, you're probably wondering what will happen when Windows 8 joins the conversation. Download our free ADMIN Magazine special edition for an up-close look at Windows/Linux integration such as Samba, dual-boot, virtualization, and filesystem drivers.
Welcome to the Resource Library
Download this asset in three easy steps:
Enter your email address below.
If this is your first visit, we will ask you a few questions.
Proceed to the download page.