HPC Special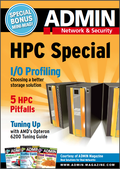 If you are an HPC specialist, or if you are just starting to explore the possibilities of high performance computing, download the HPC Special for practical dispatches from the world of HPC. Discover some of the pitfalls associated with building your own HPC environment. We'll also show you how to improve storage performance through I/O profiling, and we'll give you some tips on tuning AMD's Opteron 6200 processor.
Welcome to the Resource Library
Download this asset in three easy steps:
Enter your email address below.
If this is your first visit, we will ask you a few questions.
Proceed to the download page.