The 12 Critical Questions You Need to Ask When Choosing an AD Bridge Solution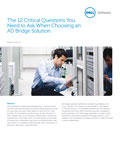 Microsoft Active Directory (AD) access for Unix and Linux systems can be an authentication nightmare. Fortunately, an AD bridge helps this problem by granting "full citizen" AD status to non-Windows systems. But how do you choose an AD bridge configuration that solves your problems, gives you a clear path to long-term success, and offers the flexibility, scope, and power to help you reach your objectives? Learn the about 12 key questions for evaluating AD bridge alternatives.
Welcome to the Resource Library
Download this asset in three easy steps:
Enter your email address below.
If this is your first visit, we will ask you a few questions.
Proceed to the download page.