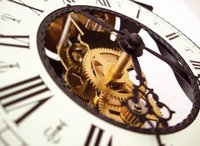 Automating the Azure infrastructure using a command-line interface
Clockwork
When it comes to merging the cloud with local resources, Azure offers some useful automation tools.
Microsoft Azure [1] is increasingly merging with local infrastructures, whether for testing purposes or to allow for expansion of the production environment. For administrators, merging the cloud with local resources means great flexibility and many opportunities – but also the challenge of automating routine tasks to include cloud support. Fortunately, Microsoft has thought about the administrator's daily worries and has provided some useful automation tools.
Although the Azure environment includes GUI-based portals (see the "Choose your Portal" box), if you're serious about automation, you'll eventually want to integrate the cloud environment with custom scripts, which will require some knowledge of Azure's command-line interfaces (CLIs).
Currently Microsoft supports two portals for accessing Azure resources: the older, classic deployment portal, also known as the Service Management portal or Azure Classic Portal , and the model available since 2014 for the Resource Manager, long referred to as the "Preview Portal" or Azure Portal .
Not all resources or services created with one portal are available in the other. The two portals are based on different APIs and thus offer little mutual compatibility. An overview of which services work in which environment is available on Microsoft TechNet [2].
After a two-year trial period, Microsoft officially released the Preview Portal from its test phase in December last year and is now advertising its use. Fewer mouse clicks and more automation simplify the administrator's decisions. Administrators who need a complex setup (that possibly even repeats from time to time because it is a test environment) have a powerful option in the form of ARM
...
Use Express-Checkout link below to read the full article (PDF).
comments powered by

Disqus