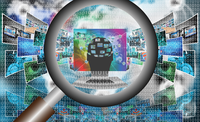 Kali Linux is the complete toolbox for penetration testing
Under the Magnifying Glass
The Kali Linux distribution is a complete toolbox for penetration testing.
Every IT infrastructure offers points of attack that hackers can use to steal and manipulate data. Only one thing can prevent these vulnerabilities from being exploited by unwelcome guests: You need to preempt the hackers and identify and close the gaps. Kali Linux can help.
To maintain the security of a network, you need to check it continuously for vulnerabilities and other weak points through penetration testing. You have a clear advantage over attackers because you know the critical infrastructure components, the network topology, points of attack, the services and servers executed, and so on. Exploitation tests should look for vulnerabilities in a secure, real environment, so you can shut down any vulnerabilities found – and you need to do this over and over again.
The variety of IT components dedicated to security does not make selecting a suitable tool any easier, because all possible attack vectors need to be subjected to continuous testing. Kali Linux [1] meets these requirements – and does much more.
Kali Linux at a Glance
The Debian-based Kali Linux distribution is at the heart of most penetration testing systems. The package contains more than 300 security tools, including those shown in Table 1.
A Few Kali Linux Security Tools
Tool
Function
OpenVAS
The only free security scanner that meets professional requirements.
...
Use Express-Checkout link below to read the full article (PDF).
comments powered by

Disqus