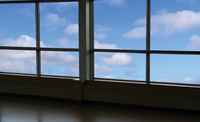 WSL puts Linux on Windows desktops
Sublease
Windows 10 supports the native execution of Linux binaries from various distributions through the Windows Subsystem for Linux. Even graphical Linux applications can make their way onto the Windows desktop.
Since Satya Nadella took over the helm of Microsoft in 2014, Redmond's aversion to Linux and open source software in general has given way to a new openness. As a result, Linux virtual machines (VMs) now run without complications on the Hyper-V hypervisor and in the Azure cloud.
The Windows Subsystem for Linux (WSL) adds a new compatibility layer to Windows 10. As the name implies, WSL is not a hypervisor that runs complete Linux systems in the form of virtual machines, but an interface that directly supports the execution of Linux ELF64 binaries [1].
WSL Architecture
The subsystem introduces what are known as pico processes [2], which run in user mode, forming the shell for unmodified executable Linux applications. To do this, they forward their system calls to the pico provider drivers lxss.sys and lxcore.sys in kernel mode and translate the system calls to their Windows counterparts. In the case of Linux system calls that have no direct equivalents in the Windows kernel, the drivers emulate the Linux kernel.
The surrounding enclosure is the LXSS Manager service, which runs in user mode and becomes active as soon as a user launches a Linux distribution with WSL. The LXSS Manager then creates a Linux instance, in which it launches the init followed by the Bash shell and all other executable files as pico processes (Figure 1). In early versions of WSL, as soon as the user closed the WSL console, the LXSS Manager cleaned up the respective Linux instance, which meant it was not possible to run background processes. However, Microsoft has since added this option [3]. If processes are still active in the background, a Linux instance now lives on,
...
Use Express-Checkout link below to read the full article (PDF).
comments powered by

Disqus