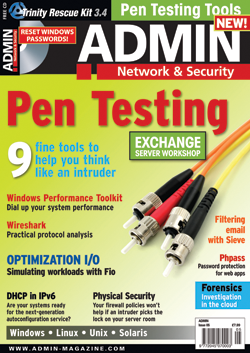 Issue 5: Pen Testing
In this issue, we examine some powerful pen testing tools and look at I/O workload simulation.
Download this issue as a PDF:
100 pages
Price $15.99

Don't miss an issue of the magazine for admins! Subscribe now!
Issue #5 will be shipped to subscribers and available on newsstands starting approximately:
UK/Europe: October 17
North America: November 11
Australia: December 12
Reconnaissance Tools – Better to know what the intruders know. We'll show you some powerful tools pen testers use to gather information.
Fio – Optimize your systems with this helpful workload simulation and benchmarking tool.
Tools: Save time and simplify your workday with these useful tools for real-world systems administration.
Windows Performance Toolkit – Tune up your systems with Windows Performance Toolkit and System State Analyzer.
Bacula – This free enterprise backup tool scales all the way to the data center.
mlmmj – This alternative mailing list manager offers some benefits over more popular open source alternatives.
Physical Security – Some of the best intrusion tools are outside of the computer.
DHCPv6 – We test some recent client systems for DHCPv6 autoconfiguration support.
Wireshark – Troubleshoot network problems with this popular protocol analyzer.
OpenVPN with Etoken – If a simple VPN isn't enough, try a VPN with an e-token.
Phpass – Protect your web apps with this free password hasher.
Sieve – This handy tool helps you filter email on the server side.
News: Find out about the latest ploys and toys in the world of information technology.
Admin News – Dell goes chillerless, HP goes haywire, and Oracle finds its inner Sun.
Nuts and Bolts: Timely tutorials on fundamental techniques for system administrators.
Marionette Collective – Manage your HPC job chains with this advanced framework.
Web and Mail Servers with IPv6 – We'll help you get your servers ready for the new IPv6 Internet.
OpenNMS – Watch your systems and patrol your network with this all-purpose monitoring tool.
Scripting – We'll show you how to automate interactive processes with Except.
Admin Story: OpenShift – Run your apps in the cloud with Red Hat's new OpenShift PaaS service.
Virtualization: Virtual environments are becoming faster, more secure, and easier to set up and use. Check out these tools.
Cloud Forensics – Learn why current ideas about forensic analysis might not work in the cloud.
Interoperability: Make sure the components of your mixed operating system environment "play nice" together.
Exchange Workshop – Microsoft's Exchange Server is a common sight on heterogeneous networks. We'll help you get started and give you some tips for troubleshooting common problems.
* Google Play Magazines available in AUS, CA, FR, DE, IT, UK, USA
---
---
---
Support Our Work
ADMIN content is made possible with support from readers like you. Please consider contributing when you've found an article to be beneficial.
---