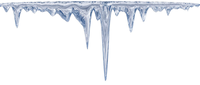 Secure email with IceWarp mail server 10
Ice Age
Admins who use Microsoft servers don't have to rely on Exchange for email with alternatives like the IceWarp mail server.
The IceWarp server [1], created by the company of the same name, offers not only an email feature, but also instant messaging, groupware functionality, a VoIP server, and a web interface for administrators and users. Anti-spam and anti-virus protection are also on board, and Outlook and various phone systems can be linked into the application as well. The manufacturer claims that more than 50,000 servers have been installed, serving more than 50 million users. The server offers most of the familiar features of Exchange Server. In other words, the IceWarp mail server is a direct competitor for Exchange or Lotus Notes.
IceWarp server is modular. Administrators can enable and configure individual functions separately, and the licensing model is also modular. Companies can thus exclude unnecessary functions and save on licensing fees.
Above all, the IceWarp mail server offers support for the SMTP and POP/IMAP protocols supported by all popular email clients, and the services can be encrypted with TLS and SSL. The server creates an archive of incoming and outgoing email that users can access and then protects the archived email against accidental deletion.
Configuration is handled in the management interface (Figure 1), and access is client based. IceWarp mail server also handles email attachments more intelligently than many other email systems.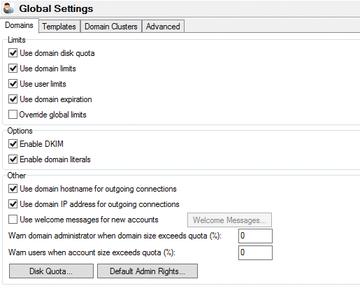 Storing Attachments Locally
When a user sends an internal email with an attachment, the server stores the file locally and only sends a link. That is, when users send an email to multiple users, only one copy of the file is necessary. Access to the files is also possible via network shares or FTP, helping companies save space, especially where there are many large file attachments. In Exchange, on the other hand, the file is always stored in full in the user's mailbox, thus bloating what are already fairly fragile databases. Public folders can also be used with IceWarp. Access is either via Outlook, another client, or the built-in web client.
A real IceWarp advantage is its approach to data storage. Whereas Exchange uses the legacy Jet system for data storage, the IceWarp server relies on real database systems. You can connect Microsoft SQL Server, MySQL, or Oracle, and the server can communicate with clients via the licensed Exchange ActiveSync protocol. Thus, users generally do not need to change software or hardware and can continue to work with Outlook and their current smartphones. Other clients can connect without problem. The IceWarp mail server supports a variety of protocols and services.
Active Directory or LDAP
IceWarp server manages the user data in Active Directory, but it also supports OpenLDAP. Generally, user management is handled in IceWarp, but the server can read data from Active Directory if the administrator creates users. Although IceWarp is flexible, management with Exchange is easier: In Exchange, administrators only have one interface to manage users and email accounts, as well as a single directory service in the form of Active Directory. User accounts from Active Directory immediately become available on the mail server and can send and receive email and use instant messaging.
Like Exchange, IceWarp supports the use of rules. These can be set on the server side and bound to user email domains or entire groups. Of course, users can also set their own rules, although administrators can check user rules and disable them if necessary. Policies can also be deployed, but they are not as comprehensive as the ActiveSync or device policies in Exchange (Figure 2).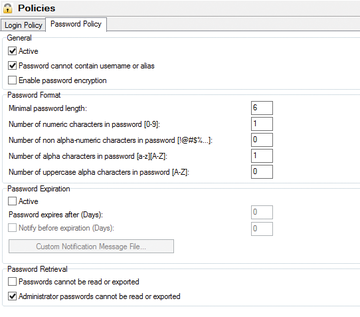 For example, you cannot define genuinely comprehensive settings and disable hardware or features on smartphones. However, admins can specify how secure user passwords need to be. The extended configuration for sending or relaying email is more extensive than in Exchange and, above all, more stable.
Because IceWarp supports many features and standards, many system services are used that can be monitored and disabled separately (Figure 3). The management console or the web interface provides an overview. Administrators can disable individual services, change settings, and adjust logging. In this way, you can also boost security by disabling unused system services. In our lab, the SMTP service occasionally hung and needed to be restarted. Some administrators therefore restart the service at regular intervals.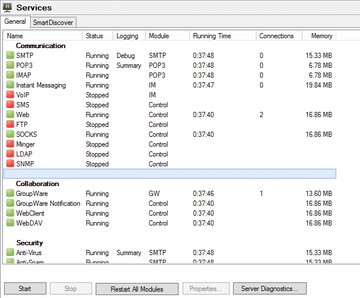 Instant Messaging, SMS, and VoIP
Beyond the mail functions, IceWarp also offers instant messaging and voice over IP (VoIP). For the chat feature, users can either turn to the locally installed client or use the web interface. The server saves the chat history so that it is available on all clients. The IM server can also access other systems on the Internet. For example, IceWarp supports ICQ, Google Talk, Yahoo, or Facebook chat. Administrators can define which networks to allow. The IM feature is based on XMPP (Jabber). Companies that use Exchange instead of IceWarp, in contrast, additionally need a Lync server.
Another feature of IceWarp mail server is a short message connector. Users can respond to text messages from cellphones via their email clients and receive text messages via the same route. Companies need a GSM modem to take advantage of this feature.
Users can also make VoIP calls via the web interface with the use of the Java client. In other words, users must have Java installed on the client and allow communication with the server. For VoIP, you can also deploy free SIP clients and commercial applications such as Bria by CounterPath [2].
comments powered by

Disqus
---
---
---
Support Our Work
ADMIN content is made possible with support from readers like you. Please consider contributing when you've found an article to be beneficial.
---