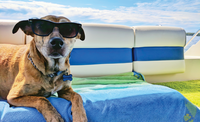 Kubernetes k3s lightweight distro
Smooth Operator
The k3s lightweight and secure Kubernetes distribution can handle both unattended workloads in remote locations with minimal resources and clusters of IoT appliances.
If commentators are to be believed, tech communities have warmly embraced another predictable and definable phase in the Internet's evolution following the steady creep of Internet of Things (IoT) technologies. Apparently, the human race suddenly deems it necessary to connect to the Internet 24 hours a day anything that boasts a thermistor. Reportedly, somewhere in the region of a staggering 50 to 70 billion IoT devices will be in action by the end of 2020.
For example, according to one report [1], a water project in China includes a whopping 100,000 IoT sensors to monitor three separate 1,000km-long canals that will ultimately "divert 44.8 billion cubic metres of water annually from rivers in southern China and supply it to the arid north." The sensors were apparently installed to monitor for structural weaknesses (in a region with a history of earthquakes), scan water quality, and check water flow rates.
As you can imagine, the constant data streams being fed 24/7 from that number of sensors needs a seriously robust infrastructure management solution. Kubernetes (often abbreviated k8s by the cool kids) has historically been trying to address the non-trivial challenge of achieving what might be considered production-grade clusters without using beefy processing power and sizeable amounts of memory. With its automated failover, scalability, load balancing services to meet global traffic demands, and extensible framework suitable for distributed systems in cloud and data centers alike, Kubernetes has gained unparalleled popularity for managing containers. Building on 15 years of herding cat-like containers in busy production clusters at Google means it also has an unimpeachable pedigree.
In this article, I look at a Kubernetes implementation equally suitable for use at the network edge, shoehorned into continuous integration and continuous deployment (CI/CD) pipeline tests and IoT
...
Use Express-Checkout link below to read the full article (PDF).
comments powered by

Disqus