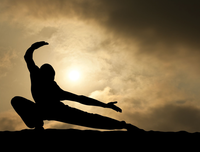 Next-generation terminal UI tools
Cursed Monitor
The implementation of terminal user interface libraries enables an impressive variety of in-terminal graphics.
The venerable curses [1] library first enabled plotting graphics on a Unix terminal, allowing the emergence of dynamic, interactive tools such as top [2] and its brood of descendants to improve greatly the ability to monitor a system's state continuously. The transition from static tables of numbers to charts and sometimes even dynamic data representations was followed by new implementations of terminal user interface (TUI) libraries, including Ncurses [3] and Newt [4]. Jeff Layton has previously graced these pages with a tutorial on how TUI tools are developed today [5], and yours truly followed in the next issue with a survey of network monitoring tools adopting in-terminal graphics [6]. Two years later, I revisit the subject to witness the impressive improvement of the state of the art taking place since.
Not Your Father's Curses
The bashtop [7] utility is one of the most remarkable new entrants – so much so it has been featured by the likes of Forbes magazine [8], hardly what I would call conventional treatment for a Linux utility. Originally written in Bash (hence its name), it was re-implemented in Python [9] last year, reducing its CPU consumption by two-thirds and simultaneously improving speed and extending functionality. A third rewrite, this time in C++, is in progress at the time of this writing. The performance enhancements are welcome for administrators who leave the
...
Use Express-Checkout link below to read the full article (PDF).
comments powered by

Disqus