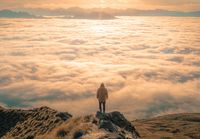 Azure AD and AD Domain Services for SMEs
Above the Clouds
Azure Active Directory Domain Services is a Microsoft product, distinct from Active Directory and Azure Active Directory, that offers centralized directory services in the cloud in place of an often convoluted on-premises operation.
Small- and mid-sized enterprises (SMEs) have some of the same IT needs as larger enterprises. Unlike large companies, however, SMEs usually do not have a separate department to look after internal IT. This work is either outsourced to external service providers or an employee performs the task on the side.
To deal with various compliance issues and to simplify the management of user access and devices, central directory services such as the Lightweight Directory Access Protocol (LDAP) or Active Directory have become increasingly widespread. Although a full-blown Active Directory was once considered a tool needed only by huge company infrastructures, small Active Directory setups can now also be found in companies with around 10 or more employees. The problem is that an Active Directory setup is hardly less complex today than it was a few years ago; if anything, it has become even more difficult.
As a central directory service, Active Directory also has a central relevance. If all user logins rely on Active Directory, they will not work if it is not available. Therefore, administrators see themselves confronted with the issue of needing high availability, even though it is often impossible to achieve on site because typically no data center infrastructure is available and the server with Active Directory might be hidden away in a broom closet.
Microsoft's focus on the cloud in the form of Azure could provide a solution. Lo and behold, if you scroll through the product portfolio, you will find Azure Active Directory (Azure AD) [1]. However, because of how it is structured, Azure AD is not the classic directory service that you know from your local Active Directory, even if the name suggests a relationship with its namesake from the on-premises world. The difference between the two is easy to see because Microsoft exclusively offers Azure AD as a managed service (i.e., as a Platform-as-a-Service
...
Use Express-Checkout link below to read the full article (PDF).
comments powered by

Disqus