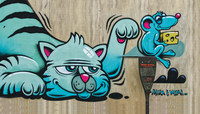 Chef users faced with a license change might find solace in a new open source distribution, Cinc.
Trap and Release
For the past two years, Chef software used commercially has required a separate license. Cinc enters the scene as a free and completely compatible Chef distribution that makes it a genuine alternative.
Administrators who primarily move around in the open source scene are not exactly euphoric when they are forced to deal with the details of software licenses. The Apache license has asserted itself in recent years, and there is still the good old GNU Public License (GPL), preferably version 2. A common practice in the free/libre open source software (FLOSS) world is to distribute compiled programs under the same license as the original source code – or at least the overwhelming majority of open source projects does things this way.
One notable exception to this rule is Chef, which made a name for itself years ago as one of the first automators. Since the spring of 2019, however, the relationship between users and provider has been troubled. Anyone wanting to use prebuilt packages for Chef now needs a commercial license, which was not necessary before.
As you are probably aware, it doesn't take long in the open source world for a free alternative to take root. Cinc enters the fray with the promise of being fully compatible with Chef while remaining available under a free license. This article begins by explaining what the implications of the Chef licensing model change were and how Cinc is positioning itself as an alternative.
How It (Often) Works
The day that extensive changes to Chef licenses took effect was April 2, 2019 (Figure 1), directly affecting those Chef users who had been using Chef normally like any other FLOSS software.
Use Express-Checkout link below to read the full article (PDF).
comments powered by

Disqus