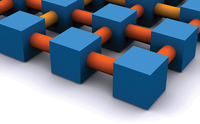 Distributed Linear Algebra with Apache Mahout
Matrix Math
The Apache Mahout distributed linear algebra framework delivers new tools and methods for performing data analysis, building machine learning data pipelines, and implementing machine learning models in production.
The ideal scenarios for using Apache Mahout are in teams with the flexibility to adapt as their needs change over time. Mahout can easily swap back-end compute engines (e.g., batch or micro-batch systems such as Apache Spark) or streaming systems (e.g., Apache Flink). Additionally, Mahout is able to perform compute on multiple software and hardware systems, ranging from the Java Virtual Machine (JVM), to whatever multicore CPU is available, to on-board GPU for high-volume parallel computation.
Typical users of Mahout are advanced data engineers and data scientists who have experience writing transformations and models in other languages but who are looking for an approach that does not require they rewrite their work, depending on the system they use from month to month or year to year. Moreover, mathematics-oriented software engineers will enjoy the simplified Samsara domain-specific language (DSL), which provides a stripped-down syntax that feels natural to people accustomed to writing with math notation, avoiding the usual "syntax bloat" that most machine learning libraries require.
Apache Mahout – What Is It?
Apache Mahout is a library designed to make composing and maintaining distributed linear algebra algorithms easy. First, it creates an abstraction layer on the underlying engine (the open source version of Mahout uses Apache Spark as an engine), and the abstraction layer implements basic linear algebra functions on datasets in the engine (e.g., by defining a distributed matrix, matrix multiplication, multiplication with self transposed, and other functions). Second, it uses Samsara DSL in Scala, which allows users to define algorithms with an R-like syntax that makes it much easier to write, and later read, complex mathematical formulas. Mahout has a rich history and was one of the (if not the ) original machine learning libraries for big data. Originally
...
Use Express-Checkout link below to read the full article (PDF).
comments powered by

Disqus