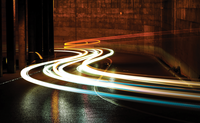 SoftEther VPN software
Speed in the Tunnel
SoftEther is lean VPN software that outpaces the current king of the hill, OpenVPN, in terms of technology and performance.
In the age of home offices and distributed locations, companies want security solutions that can be integrated easily into existing infrastructures, offer genuine added value, and secure communications between mobile clients and sites. OpenVPN was long considered the measure of all things VPN, but the business model was developed at the expense of the community edition and has various restrictions. For example, the classic tool only supports its own virtual private network (VPN) protocol and does not offer support for natively integrated VPN clients from Android, iOS, macOS, and Windows.
Fast SoftEther Alternative
SoftEther [1], whose name contains elements of software and Ethernet, has something to offer to counter the aforementioned limitations. The open source VPN supports VPN protocols such as Secure Socket Layer (SSL) VPN, the Layer 2 Tunneling Protocol (L2TP)/Internet Protocol Security (IPsec), OpenVPN, and Microsoft Secure Socket Tunneling Protocol (SSTP). SoftEther supports network address translation (NAT) traversal, which means you can run the VPN server on a machine located behind home gateways, facility routers, and firewalls. Firewalls that perform deep packet inspection do not recognize SoftEther's VPN transport packets as VPN tunnels because HTTPS is used to disguise the connection. Other highlights include:
Site-to-site and remote access VPN connections
Access to restricted public wireless local-area networks (WLANs) by VPN over Internet Control Message Protocol (ICMP) and VPN over DNS
Ethernet bridging and Layer 3 over VPN
Logging and firewalling in the VPN tunnel
Support for relevant operating systems (Windows, Linux, macOS, Android, iOS)
Cloning OpenVPN connections
RADIUS/NT domain authentication of users
A table showing the direct
...
Use Express-Checkout link below to read the full article (PDF).
comments powered by

Disqus