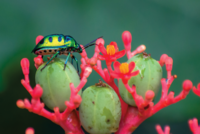 A Distributed SQL Database
Insect Collector
CockroachDB is an SQL database that is fully distributed and designed for excellent scalability.
CockroachDB [1] is an open source, distributed SQL database that provides scalability, high availability, and strong data consistency across multiple data centers and cloud environments. It was designed by former Google employees who later founded the company Cockroach Labs. CockroachDB is built on the foundation of the Google Spanner research and is often referred to as "Spanner for the masses" (see the "What is Google Spanner?" box), making the power of distributed databases accessible to a broader audience.
Google Spanner is a database management system that stands out from other database systems in several ways. It is designed to handle large amounts of data and high transaction rates at a global scale, with automatic sharding, distribution, and replication of data across multiple regions.
Spanner provides strong consistency guarantees, ensuring that all nodes in the system have the same view of the data at the same time, making it ideal for mission-critical applications. It also uses an SQL-based query language, making it easy for developers to interact with the database with familiar tools and APIs. Additionally, it supports ACID (atomicity, consistency, isolation, durability) transactions, which maintain data integrity in the face of system failures or concurrent transactions.
Spanner supports multiregion replication, which allows data to be replicated across multiple regions for low-latency access to data and increased reliability. Furthermore, it supports horizontal scaling, enabling it to add more nodes to the system to handle increasing workloads and scale up or down according to the application's needs, making it a powerful and unique database management system.
Unfortunately, it was never open sourced – it is a proprietary
...
Use Express-Checkout link below to read the full article (PDF).
comments powered by

Disqus
---
---
---
Support Our Work
ADMIN content is made possible with support from readers like you. Please consider contributing when you've found an article to be beneficial.
---