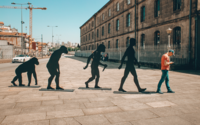 GENEVE network tunneling protocol
Evolution
LAN data transmission has evolved from the original IEEE 802.3 standard to virtual extensible LAN (VXLAN) technology and finally to today's Generic Network Virtualization Encapsulation (GENEVE) tunneling protocol, which offers improved flexibility and scalability, although it still faces some issues. We look at the three technologies and their areas of application.
Virtual local area network (VLAN) tagging on an IEEE 802.3 network is defined by the 802.1Q standard, which makes it possible to separate traffic from different logical networks within a physical network. Special VLAN tags are attached to each Ethernet frame to assign unique VLAN IDs, allowing a switch to determine the VLAN to which a frame belongs and forward it accordingly. Therefore, traffic from different devices or user groups is separated and isolated without the need for physically isolated networks.
Virtual extensible LAN (VXLAN) is a tunneling technology used to create and connect VLANs across a physical network and extend the maximum number of supported 802.1Q VLANs from 4,094 to up to 16 million. Generic Network Virtualization Encapsulation (GENEVE) is a newer tunneling protocol developed by the Internet Engineering Task Force (IETF) that offers greater flexibility and scalability compared with VXLAN and supports multicast data transmission.
IEEE 802.3 and 802.1Q
The IEEE 802.3 standards (also referred to as Ethernet) are mainly used to transmit data packets on LANs. The nature of the data can vary and includes files, documents, audio, video, web content, email, and more. This definition describes the transfer of data packets by coaxial, copper, twisted pair, and fiber optic cables.
An Ethernet data packet comprises the physical and higher layers known from the Open Systems Interconnection (OSI) reference model, which describes the logical aspects of the network. The layers relevant for the structure and format of Ethernet data packets are:
the medium access control (MAC) header, which contains the address of the receiver and sender along with other control information;
the logical link control (LLC) header, which provides details of the type of transmitted data, such as Internet Protocol (IP) and Address Resolution Protocol (ARP); and
the
...
Use Express-Checkout link below to read the full article (PDF).
comments powered by

Disqus
---
---
---
Support Our Work
ADMIN content is made possible with support from readers like you. Please consider contributing when you've found an article to be beneficial.
---