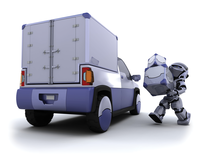 Layer 3 SDN
Package Delivery
Calico chooses an unusual approach for software-defined networking, relying on open standards like BGP. We look at the distinctions and advantages of Calico.
In the past, network duties in the data center were strictly separated: admins took care of the Linux systems, storage admins of the network storage, and network admins of the routers and switches. For individual customers, specific configurations were built on the data center's own hardware; everything was set up once, and the job was done.
Recently, however, responsibilities have shifted considerably – largely because of the cloud, which has made IT services far more dynamic. Customers no longer want to wait weeks or months for a custom infrastructure to be set up; they want storage and compute immediately. As a result, IT providers have become platform operators. Instead of customer-specific setups, a generic platform of compute and storage resources greets customers, who then consume bit by bit according to their needs.
Now, the network magic happens on the customer side with software-defined networking (SDN). Calico [1] steps in on the software side to replace the functions of classic network devices in virtual environments. Admittedly, the project is not at the forefront of the SDN movement. Other approaches (e.g., Open vSwitch) claim seniority. However, Calico is fundamentally different from most other solutions: It comes without an encapsulation technique and relies instead on standard Layer 3 protocols.
Calico makes some bold claims. The developers of the solution promise special security and native kernel speed on Linux systems, which is reason enough to put the product through its paces.
SDNs
A short excursion into the terms and functions of SDN helps to understand the central unique selling proposition behind Calico. SDN is no longer a homogeneous approach, and different implementations compete for admins' favor. The core idea of the SDN is to shift network functions from typical network hardware to the
...
Use Express-Checkout link below to read the full article (PDF).
comments powered by

Disqus